With 60 years of business under its belt, Bermuda Pest Control is proud to have maintained its stellar reputation in 'helping to keep the pests away'. Considered a one-stop shop, the company has been offering a full suite of commercial and residential pest control services for businesses, homes, hotels – as well as ships and aircraft – since 1952.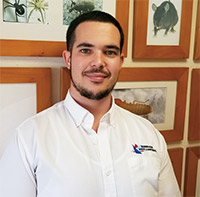 Known for its tight-knit staff and strong team, the company went through a challenging period following the tragic loss of former operations manager Walter Saul, who passed away in August 2017. "Mr Saul was a fantastic manager and mentor, and neither myself nor the Bermuda Pest Control team would be where we are without him," said Justin Tavares, the new operations manager.
Mr Tavares is no rookie when it comes to his knowledge of the company or the industry. A family business, Bermuda Pest Control, was initially acquired by his grandfather, Denis DeSousa, in 1975. "My grandfather took over the business before I was born," he said. "I remember when I was around four-years-old saying that one day I'd like to manage the company, so it feels surreal to be here now and get to lead our team of hardworking, dedicated staff. Although I'm young, I've been around this industry for many years and am extremely passionate about entrepreneurship."
I remember when I was around
four-years-old saying that
one day I'd like to manage the
company, so it feels surreal to
be here now.
A graduate of the University of Central Florida, Mr Tavares obtained a Bachelor of Science degree, with a focus in Business Administration, Finance and Management. "Since joining Bermuda Pest Control I've received certifications from Purdue University in Urban and Industrial Integrated Pest Management and from the University of Florida in Pest Control Technology, as well as multiple other minor certifications," the 26-year-old said. "I've been committed to learning as much as I can, so I can continue to shape our company and ensure it has everything it needs to be successful in the future."
One of the keys to the business' success over the years has been its low staff turnover. Nearly half of its employees have worked at the firm for more than 20 years, Mr Tavares said. "Their dedication and support over the years has been crucial. In addition, we are investing in new technologies, including a new client portal, and expanding our range of services to include lawn treatments. We're also making our business greener as we go paperless when it comes to a lot of our administrative tasks."
When asked about what's ahead in the future, Mr Tavares said "change was inevitable, but how you react to the changes is what makes the difference". "Embracing changes in not only our business, but in our industry and Bermuda as a whole, is what will make our company stand out from our competitors."
Located at 15 Ten Pin Crescent in Warwick, Bermuda Pest Control can be reached at 232-7378 or email [email protected].