by Nadia Laws
They say history repeats itself. Well, the same is true for fashion. RG Mags asked three style conscious women to weigh in on their inspirations from eras gone by and what the future of fashion could bring.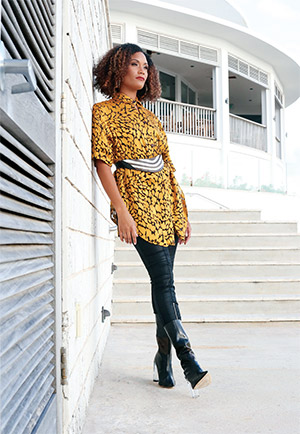 As a child, Rochelle Minors would lay on her parents' bed watching Italian runway shows on the TV and dreaming about a future career in the fashion industry. "I knew one day that would be me," she said. The former Miss Bermuda pageant winner, who took home the coveted crown in 2012, is now the designer behind Rochelle Nicole, a line that's reinventing classic daywear for fashion-loving women.
While it was Ms Minors' mom who first introduced her to paper dolls that she could dress up and experiment creatively with; it was actually her grandmother, Barbara Minors, that most inspired her current style. "I can see a lot of my grandmother's influence in my style and the way I dress," the 30-year-old said. "She was a classic woman and loved the latest fashions. She worked for Calypso most of her life, so you know she had 'the best' in her wardrobe." To this day, Ms Minors loves wearing her grandmother's vintage pieces; and admits a lot of her jewellery, accessories, handbags and even some jackets came from the senior's closet. "I love the 60's decade, mainly the colour blocking, which I incorporate into my personal wardrobe, as well as my designs," she said.
Fashion trends tend to be cyclical and Ms Minors, a graduate of the University for the Creative Arts in London, UK, has seen 1980s and 90s inspired fashions make a serious comeback recently. This includes pencil dresses, tailored trousers, fitted blazers and slip dresses, which she doesn't see going out of style anytime soon.
I love the 60's decade,
mainly the color
blocking, which I
incorporate into
my personal wardrobe,
as well as my designs
Looking forward into the future, the Bermudian designer expects to see more European influences injected into local trends. "Over the last twenty years, our style has become more refined, chic, and put together," she said. "Bermudian fashion has always been elegant, but now we are becoming more modern and moving away from baggy and mix-matched pieces, opting instead for slim cut suits, soft tailoring, co-ords, chic simple dresses and lots of colour. We've also embraced African culture and have seen traditional cloth being worn at various events around the Island."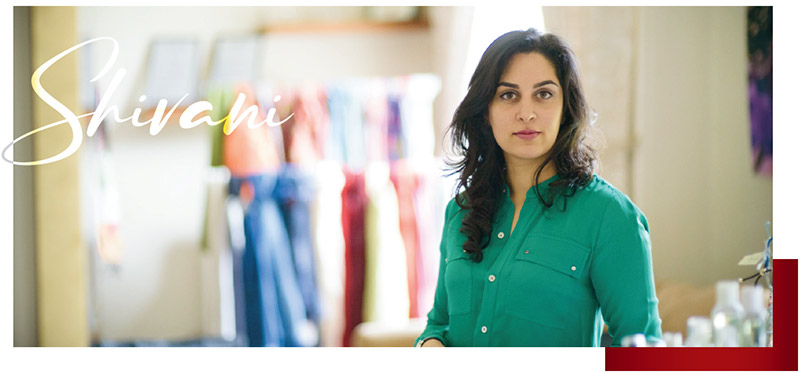 Seeing her mother walk in from work wearing a pair of knee-high chocolate suede boots with a pointed patent leather toe, was a defining moment in Shivani Seth's early life. Only 12-years-old at the time, she remembers it being "love at first sight" – with her passion for all things fashion still going strong today. Currently, an international style consultant at Gibbons Company, Mrs Seth helps scores of men and women find greater confidence through dressing.
My current style
is often a mix of
East and West –
whether I pair
an outfit with
ethic jewellery
or I mix and
match Eastern
inspirations into
my everyday look
After launching her company 'Style by Shivani' four years ago while living in Dublin, Ireland, Mrs Seth has witnessed first-hand how quickly trends can come and go. She agrees wholeheartedly with the saying by iconic designer Yves Saint Laurent: 'Fashions fade, but style is eternal'.
One of the designers from the past who has inspired her most is Christian Dior, who exploded onto the Paris fashion scene with his luxury pieces in 1947. Mrs Seth was lucky enough to see a Dior exhibition this past summer at the Victoria and Albert Museum in London, which showcased the brand's creations inspired by countries around the world. "My current style is often a mix of East and West – whether I pair an outfit with ethic jewellery or I mix and match Eastern inspirations into my everyday look," she said. Having been given the opportunity to live in Bermuda twice in the last two decades, Mrs Seth has seen the fashion and beauty scene on the Island evolve enormously. One of the most significant changes is the mindfulness that people are developing towards clothing, she said.
Mrs Seth admits she was shocked to learn that it takes 2,720 litres of water to make just one cotton t-shirt – this is equivalent to how much we normally drink over three years. "Worldwide consumers are rethinking their buying options, and many are now opting to buy more from second-hand stores and charity shops. Since my return to Bermuda, I was excited to see that Orange Bay Company was in existence. I'm equally proud to be working with Gibbons Company, which has recently made a big step away from plastics to recycled bags and which also carries eco-conscious brands like Mango."
SHIVANI SETH
www.stylebyshivani.com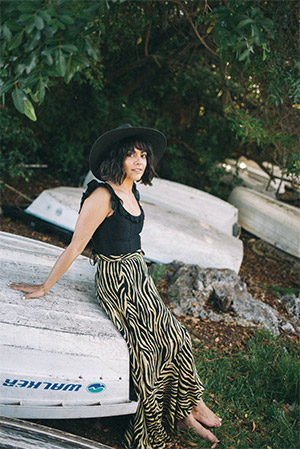 Catherine "CiCi" Araujo can't remember a time when she wasn't into fashion. Ever since she was little, she's experimented with different styles, colours and trends and admittedly some suited her "much better" than others. From beyond 'mini, mini' skirts, to acid wash denim and diamante branded logo tees, Ms Araujo is happy to never again speak of some of those past failed attempts at fashion over the years.
The store manager and assistant buyer at Atelerie, said she loves getting to help women from all different countries, backgrounds and ages create a style they love through her day job. "I help people build a functional wardrobe and find creative ways to get more wear out of their clothes so they can feel more confident in their style," she said.
When it comes to her own taste, she's been most inspired by film and fashion icon, Audrey Hepburn. More recent inspiration has come from designer Anine Bing, author Leandra Medine and fashion blogger Alyssa Coscarelli. "With Alyssa Coscarelli in particular, I'm inspired by her most lately because she's petite like myself and doesn't let that stop her from wearing whatever she wants and experimenting with trends. No matter if it's high-rise denim, flared jeans or maxi dresses, she doesn't let her height limit what she wears, and I like to do the exact same."
she doesn't
let her height
limit what she
wears and I
like to do the
exact same
Ms Araujo has seen the local style scene change quite a lot over the last decade or two. Most notably, she sees people on the Island freely and happily trying new trends and stepping away from classic and safe style choices. Instead of skinny jeans for instance, more people are testing out how flare or cropped boot cut-denim look on their figure. "I love seeing trends from the 60s through to 90s coming back in style, however there are definitely some trends we should do our best to keep in the past," she said, with a laugh. "Altogether, Bermuda's fashion scene has grown – you can truly see how different and unique we all collectively are through fashion and street style."
CATHERINE ' C I C I ' ARAUJO
www.cicissecret.com