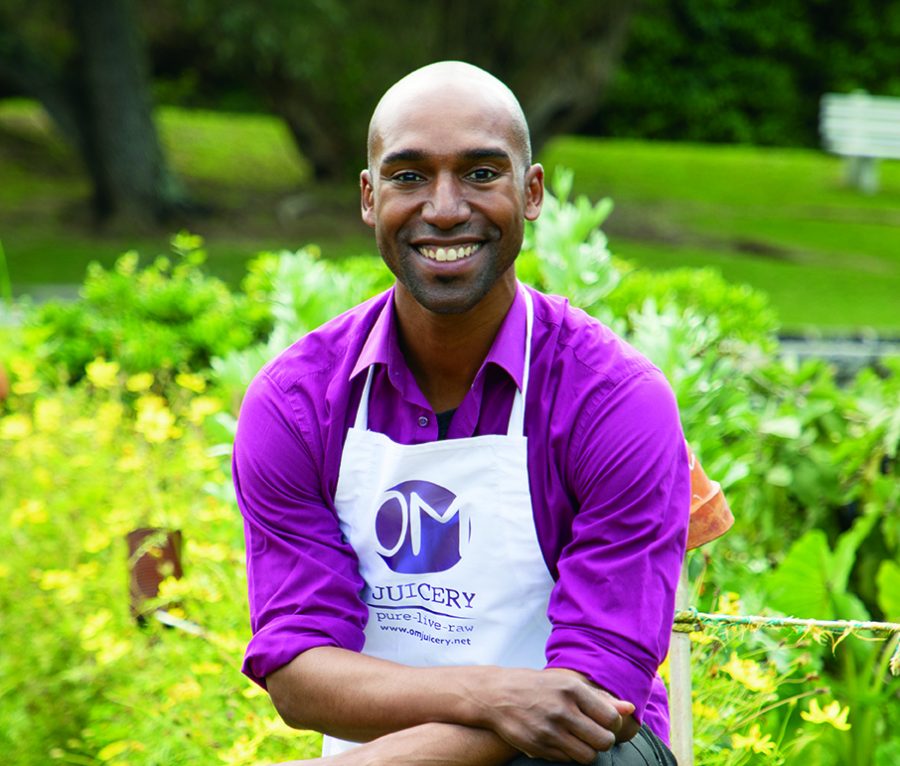 Growing up, Preston J Ephraim II loved to play sports – from hurdling in track and field, to basketball and American football. On the outside, he was the picture of good health with an athletic build; the inside, however, was a completely different matter. "I lived in United States where fast food and a fast pace lifestyle were the primary source of nutrition and living," he said. "This allotted very little time for contemplation or self-observation.  As a result of arriving home at various hours, I rarely ate home cooking.  Until one day, I became injured and was forced to learn about whole foods."
At 13, Mr Ephraim was playing sports when he suffered a facial injury, requiring multiple stitches. It meant he couldn't properly chew his meals and forced him to turn to smoothies and juices for his daily sustenance. Fast forward to today and Mr Ephraim is now the owner of Om Juicery, a popular cold pressed juice bar located on Elliot Street in Hamilton. Over the years, the father-of-three has introduced hundreds of people to the benefits of juicing through his life and health coaching business.
Prior to opening the doors to his shop, Mr Ephraim would regularly see clients – from busy executives, to athletes and stay-at-home moms – all in need of a health makeover. "One particular client I had, his occupation involved meeting with clients over dinner or alcoholic beverages. Most of his days were spent in meetings. As a result his lifestyle and eating habits were slowly limiting his mental and physical wellness. I said to him: 'The way you're going now, it may be very difficult for you to turn this around'. I suggested the easiest way to change his health would be to introduce a living food diet and encouraged him to make his juices and smoothies at home, which wouldn't greatly impact his lifestyle."
Mr Ephraim's former client asked for his help in getting started, so he created organic fresh pressed juices and delivered them to the client in batches.  Mr Ephraim said: "I'm passionate about consuming raw, organic cold pressed juices because it allows us to consume a wide range of vegetables.  Therefore our body gets a higher rate of nutrients. Juicing is a great way to boost your health and detoxify the body, but can be labour intensive and require a lot of cleanup, which isn't practical for everyone." It wasn't long before more clients began to ask Mr Ephraim for his cold pressed juices and juice cleanses. His juicing service became so popular, he outgrew his home kitchen and had to move into a commercial space.
Juicing has various benefits – from improved energy and mental clarity. It can also help with gastrointestinal issues or skin conditions.  Mr Ephraim said his juices contain organic and locally sourced ingredients. "We work with a lot of Bermuda's farmers and our produce gets harvested from the farm and pressed the same day," he said. "When people drink our juice blends they immediately feel enlivened and nourished on a cellular level. They can't get enough."
---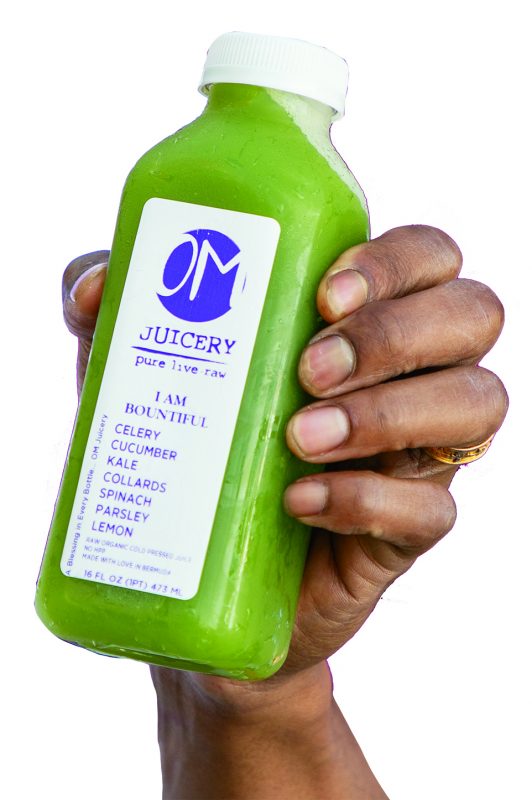 Preston's OM Green Juice
INGREDIENTS
1/2 Green Apple
1/2 Large Cucumber
5 Leaves of Kale
1/8 lemon
1/2 to 1 inch of ginger
(depending on preference)
Kale is a good source of minerals, apples and ginger are great for digestion and cucumbers are very cleansing for the body.
This article was originally published in the Fall 2019 edition of RG Magazine.