By Sarah Lagan
While Bermudian producer/DJ Noise Cans is making a name for himself on the world stage, the man behind the name remains shrouded in mystery.
Despite his bristling electronic dancehall beats attracting an international following, his identity will forever be concealed behind the giant Gombey-inspired mask he fashioned with designer friends.
Speaking to RG Mags over the phone from his "second home", Jamaica, while lounging in the celebrity-laden Golden Eye resort of Island Records founder Chris Blackwell, he vowed to keep his growing fanbase guessing. 
"It's a little like Banksy," he says, referring to the anonymous street artist whose paintings fetch millions. "I wanted to pay homage to the Gombeys and give my island some more recognition on a world stage.
"I wanted to create something true to the culture that I love and know. I was never in a Gombey troupe but I have friends who are.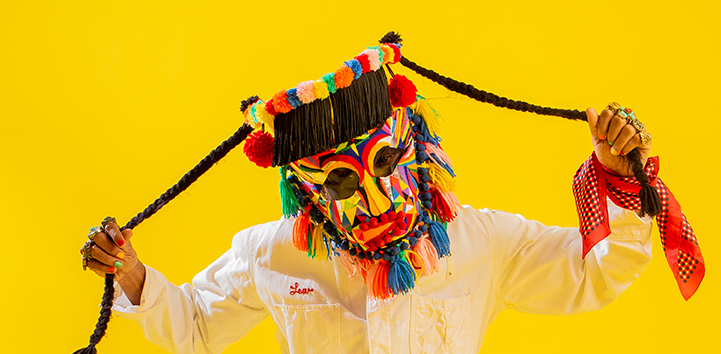 "The mask is a statement that breeds a conversation."
That conversation made its way all the way to www.vogue.com in 2017 as part of an interview he gave on the release of his first EP Masquerave on Dim Mak, the record label of legendary DJ Steve Aoki.
Noise Cans is all about visuals that create an evocative theatre around his onstage performances which he describes as "a mix between carnival and Cirque du Soleil".
His musical tastes are eclectic but he is focused on creating a unique blend of Caribbean and electronic dance music. 
He has confirmed his Bermudian heritage — "I don't think I could get away with the mask and making it part of my persona if I wasn't Bermudian" — but will not reveal details that might give him away such as the school he attended, his age or, of course, his real name. (His stage name is a colloquial reference to headphones).
Based in New York, he admits to being raised in Devonshire, leaving the island to attend college in 2000 and making regular visits home. 
He says he is a fan of Bermuda Heroes Weekend, the island's burgeoning carnival scene which he has attended a couple of times. 
"With carnival it's the energy, the music, the dancers, everything that inspired me in the beginning. From the Jamaican and Bermudian sound systems to the massive party on stage as well as the electronic elements — the lighting and visuals that tie it in to a massive ball of fun. I love the fact it is in Bermuda and it will only get bigger and better.
"Soca is a huge part of what I do — I bring a lot of that rhythm and energy into my performances."

Since his first album Noise Cans has created a ton of remixes and performed in the UK, US and Caribbean and Europe. He's looking forward to going further afield with numerous dates lined up in Asia. 
He released his second EP Dutty Mas in March, the title is a nickname for Trinidad's J'Ouvert.
It has tracks featuring Trinidadian Bunji Garlin, the ragga soca artist, and Preedy Kapleton, the soca singer.
And while he is getting used to mixing with music royalty on a regular, Noise Cans is humble enough to not forget his roots. 
He asked Bermudian Brittany Cox to be a part of the track Take Ova.
"I am starting to incorporate Bermuda artists on all of my projects now that I have bit of a platform.
"I liked her voice, reached out to her on Instagram, we talked and she recorded it," he said of the singer who performs as Brixx. "I hope that it is giving her the push to want to do more. We are talking about continuing to collaborate."
Bermuda is a tough place to start from if you want to make your way to the top, he said. 
"I loved growing up there and I couldn't imagine being raised anywhere else in terms of the sun, the beach, the fishing and the freeness in that island setting. But if there was one thing that was limiting, it was being somewhat sheltered and not being able to have the opportunities to grow. 
"I want to continue to be an inspiration to other Bermudian artists and help in any way I can. Social media has been a blessing for many artists; social media is the game. After I put some songs out on SoundCloud, they gained popularity and in 2015 I had a record with Mr Vegas on the song Bucka — that was my first real release. After that Steve Aoki picked it up as single."
As for his own creative goals, the sky appears to be the limit: "If I can get a record with Rihanna and Beyoncé that is the next goal. I want to create for big artists. I also want to start my own record label and that could be a resource for Bermudian artists.
"I want to continue to build my brand. I pull from so many different things — that's what makes it exciting — but you have to put your own twist on what you do. Being unique and being you is everything."