People are fascinating. I'm not talking about politicians and celebrities who shout their achievements from the rooftops, I'm talking about the football coach who inspires children to achieve their dreams, the charity worker who ensures people's dignity no matter their circumstances, the vet doing her bit to help the planet and its animals. 'Humans of Bermuda' are Bermudians who, through their talents, bravery and determination, make the world a better place. Here are their stories.
Annabel Cooper
---
I'm a poet, a nurse, and I have a house, though right now, no one lives in it.  I am proud to say that I am homeless, but homelessness isn't just about a house; it's about a mindset, and there's a stigma. Every morning I have to wash in a public restroom, but I am still driven. Driven by my hunger, the preservation of life, and the young people who are also in this situation, both white and black, sleeping in cars, parks, on the beach. I am naturally benevolent, which means I want to help others, especially those in similar situations.

Every morning I'm up before the sun. Begin to rise giving thanks to the father for opening my eyes. Then I wash my face and clean my teeth, not in a house, but in the public restroom sink. Break out my razor and meticulously start to shave, people come in as I'm in the mix. Some of them look at me with pity while others stare at me like I'm a piece of shit. The rumble from my belly alerts me that I need food. Have no change in my pockets so what am I supposed to do? Go look for some work, but the boss is got his crew. Now my hunger pains are becoming more intense, now im thinking how can I make $10 out of 15 cents. Oh well it looks like somebody's gotta get got. It may be the pastor of ya church or a muthaf***** cop…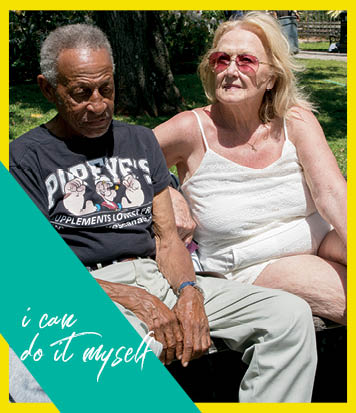 We've known each other for ten years now, he was one of Bermuda's best boxers, but that was a long time ago. We've been blending our cultures and learning from each other for years. We would go fishing at Admiralty Park, but we found out we were using the wrong bait. Just the other day, he got up and did his own roof! He's 83 you know! His great grandma was 102 and used to walk twelve miles every day, and I think that taught him if you want something done and you can do it yourself, do it yourself!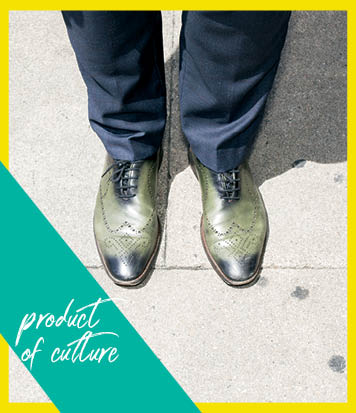 I have been in Bermuda for three years, but have been back and forth for eight. My mother is of Ghanaian descent, but I was born in the UK. As a religious person, I have always been involved in the church, and I met my wife there. She wanted me to move to Bermuda, but I didn't understand why until I came to visit. I realised how amazing this place is, and we moved December 8, 2015.  I originally worked at a diverse organization in Bermuda, so I quickly became well connected to people on the island. I have enjoyed being able to blend the cultures of the UK, Ghana, and now Bermuda into my fashion business.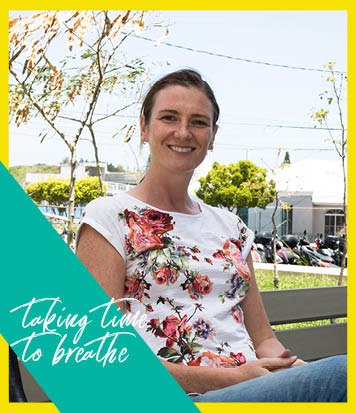 I've been in Bermuda for five years, and have fallen madly in love with it. Since moving, I've developed anxiety for flying. However, I can't avoid flights with my family living in Scotland. I didn't want to use medication for it, so I started incorporating yoga and wellness, taking care of myself, and making time to just breathe into my life. Last year I took 22 flights and never had a panic attack. It all sounds cheesy, but we all need to learn how to take a minute to see that there is so much joy in life and we are all so lucky to be here.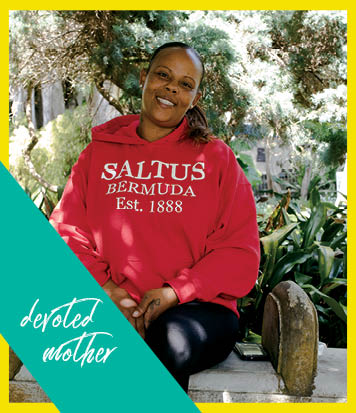 My kids are my motivation. I am a mother of five-three boys and two girls-and they are my drive. I love my family, boyfriend, and all those around me. You see, Bermuda is a beautiful and privileged country, but I think Bermudians take it all for granted. "Together we stand, but divided we fall", and we, as a nation have been divided for so long. I want people to come together, stand together, and support each other.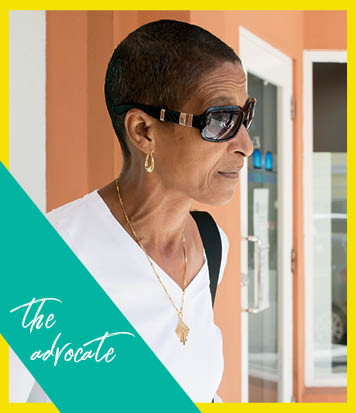 One of my main concerns is the health of our Bermudian women. We don't take care of our bodies, we don't know our bodies, and we don't listen to our bodies. I have been fighting cancer for many years, but I have gotten to know my body and know to get checked when I feel something is wrong. When it comes to our health, we are the first ones to know if there is a problem, but only if we take the time to listen to our bodies. I don't like that people talk badly about the care we get at the hospital here; doctors are doctors no matter where you are, and they are all human-and sometimes humans make mistakes.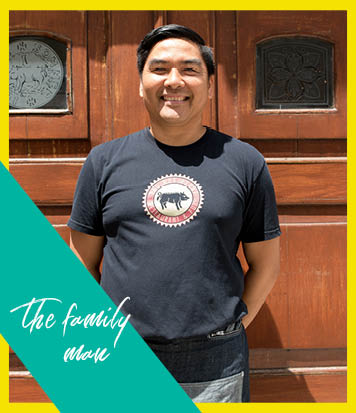 I am originally from the Philippines, but I worked in Saudi Arabia before moving here. I worked as a waiter there too, but it was very strict. I wasn't allowed to speak directly to the women. It's simpler here. Bermuda is quiet and peaceful, and the view of the ocean is refreshing and relaxing. I met my wife in Bermuda! She is from the Philippines as well, but we didn't know each other before moving here. We got married in 2012, and in 2014 we started our family with a baby boy. He is five years old now. 
My children are my inspiration. Watching them begin to succeed in life, finishing school and starting to secure employment has been a wonderful experience for me. I am inspired by my family and the support system I have both at home and work, as both are equally important for your wellbeing. I like to keep the family together; we have lots of family dinners and use any celebration as an excuse to get everyone together. I love to read, travel and I like to take advantage of every moment-and I try my best not to sweat the small stuff.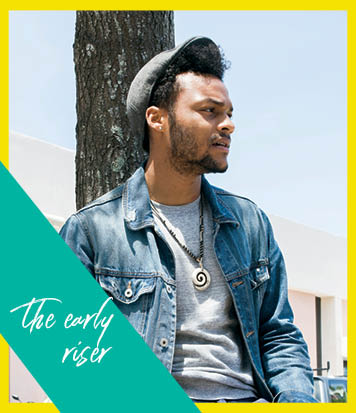 A lot of people don't know I am an early riser. Every morning, I wake up at 4.30am because at that time the sun isn't up, it is peaceful and I want to capitalise on that. You know what they say, the early bird gets the worm! I believe the way you start your morning sets up your entire day and it has a lot to do with productivity. Every second counts and I want to spend them doing the things that I love, which is I expressing my emotions and values through my craft-video production and editing. 
When my daughter was born I felt this enormous pressure to live more honestly, more open. And the greatest part of me that I stowed away was my drawing and painting, something I've loved and done all my life. I've always been afraid of people's criticism, and had an overwhelming fear that I just was not good enough. But face to face with this beautiful girl who loved me so completely made me brave. 
And eventually I started showing my work, and people seemed to like it and understand what I was trying to get across. I'm still scared, full of fear and self-doubt but instead of letting those feelings hold me back I use them to make me better. 
And now that I have two beautiful faces staring up at me, maybe they will feel a little bit brave and show themselves bit by bit to the world after watching their mom.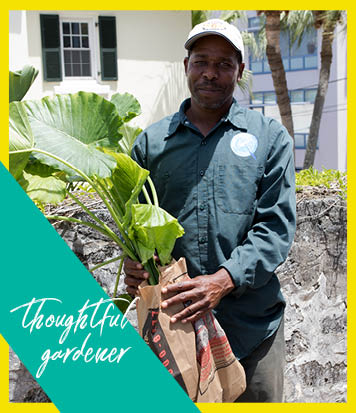 I came to town to pick up this plant for a job. I'm not familiar with this type of plant, but I'm going to get some soil and plant it today. I work at the Bermuda Botanical Gardens as a gardener and I love what I do. That's important because it means you'll do your best quality of work. I believe that anything you grow should be able to be used, so in my small garden at home, there are vegetables and herbs. When I was younger I used to work at the plant nurseries. I have been around gardening my entire life.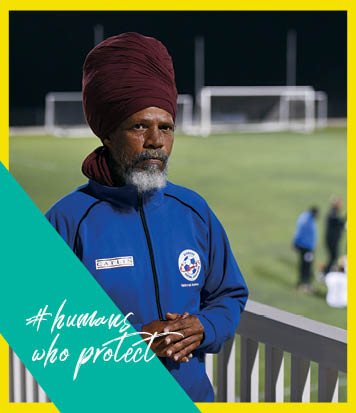 Football built my self-esteem. It's a result of hard work, sacrifice and dedication. I try to use my sport to help give the children a good foundation; teach them the importance of not just playing for yourself. Through life we learn the importance of sharing, giving and the rewards that it brings.
The first thing I had to come to grips with when I became a youth coach is that it was my responsibility to protect them. The only way I can do that is by being honest with myself as to what I've been through. I didn't leave home to reveal, it just came out. I knew it was someone in the community. It's a possibility he could be doing that to another child and I felt guilty. Here I am, a youth coach, and me knowing what I know and my silence was eating me more.
Things are better now. I'm glad I've done it. I have no shame. It's my responsibility as a coach to protect the children, to inspire them. Martin Luther King said that we have to ask for forgiveness for the silence of the good people. I don't want to be one of the silent, good people. 
If you can't use your life to make it easier for those coming from behind, what are you living for? I want to dedicate myself; I want to learn as much as I can. I want to communicate to children through their world, which is technology. I'm tired of people saying there's too much iPad. It's challenging. That's where I have to go. Now I'm looking to further myself into animation.
I don't keep no trophies, no record of my winnings. I just try to do good."
Family is one of the most important aspects of my life. My role models and my happiest moments all come from within my home. They are the foundation for how you share love and develop interests. My mom's compassion, involvement in the church and her passion for helping people raised me to be a kindhearted, passionate and religious member of the community. I remember gathering in my mother's kitchen, as a little girl, to cook food for those who could not feed themselves. Now, I volunteer with Feeding of the Homeless Programme.
My church does a lot to help people, but what we cannot do for others we try to do in love. There's just so much we can do to help. When I was about 22, I started doing missionary work all over the world. Some of the most heartbreaking places I have travelled are Vietnam and India. Regardless of how these places make me feel, I do it because I care about the treatment of others, specifically the welfare of children, seniors and animals.
That has been one of my biggest struggles; learning to love those who have hurt others. There have been hard moments in my life—when my brother was murdered, it gave me peace when his murderer was found dead; but I don't feel that way anymore. Because of that pain, I am learning to love… no matter what. My work with the Treatment of Offenders Board has shown me we can't go through life with hate in our hearts. Everyone deserves kindness and forgiveness.
This article was originally posted in the 2019 Edition of the RG Summer Magazine.