by Annabel Cooper
Lily Lightbourn
At 19 years old Lily Lightbourn headed to New York with a dream to find a modelling agency. Despite being "super shy", she kept going and one day someone said "yes!" Now, at 29, she has modelled all over the world for some of the biggest names in fashion. 
In spite of her success, she has stayed true to her Christian beliefs, set up a faith-based support group for models and loves kicking off her designer heels at the end of the day and throwing on men's track pants and Doc Marten boots.
As a child, Lightbourn didn't dream of being a model and hasn't always been comfortable with her appearance. "I had to learn to love the way I look," she says. "I was bullied a little bit in middle school, so I always thought something was wrong with me, but then there's the realisation that you are pretty. In high school I appreciated my looks more." 
In addition to modelling success Lightbourn also found "an amazing relationship with God" after she moved to New York. She grew up in a Christian family but her beliefs weren't as strong as they are now. "The church I started going to allowed me to form my own relationship with God. They didn't tell me what to do. No one criticised me or made me feel wrong or guilty. It embraces the arts."
Modelling work can be tough and this fact, alongside her Christianity, inspired her to found Model Grocery earlier this year. She describes it as "a safe place for models to share and connect and receive a little bit of The Word at the same time". 
"That's what you need to get through the rejection, when people tell you what's wrong and what's right," she says. "There's so many promoters in New York City, it's nice to have a space where no one is trying to look at you for your aspect or use you."
Modelling does have a fun side too. During a London show for Vivienne Westwood, which she describes as "overwhelming amazing", she got to wear a red "pants and blazer" suit: "At the time that really suited me. My hair was in an afro and I had these amazing red boots. The whole show gave me goosebumps."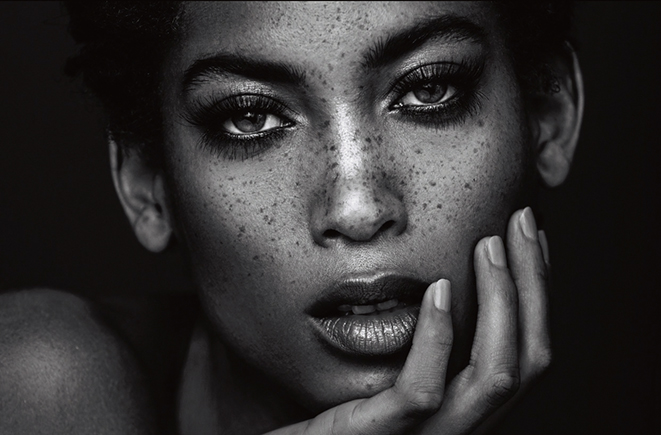 This article was originally posted in the 2019 edition of the RG Summer Magazine.