By Annabel Cooper
Saleem Madyun
Anyone wanting to do their bit for the planet can take a leaf out of Saleem Madyun's book. His two-acre plot in Sandys is teeming with wildlife. The bees are particularly prolific around the African basil plant and governor's plum tree, which he says, "is a sign that the bees are back in Bermuda. We should grow stuff like this to encourage the bees". 
Mr Madyun retired this year after 28 years as gardens manager for the Bermuda National Trust, however he doesn't look very retired. In addition to the land in Sandys, which he rents from the Trust, he also has plots near his home in Southampton.
"It's a passion," he says. "I have a strong passion for farming and horticulture. I like animal husbandry and vegetables, but I like to deal with vegetables that are unique. I have it in my genes." 
He points to a patch that he says is an old strain of sweet potato: "The difference is it's one of the best tasting, but it takes eight-and-a-half to nine months to harvest. A lot of the stuff nowadays you can harvest in four-and-a-half to five months. I like the old way. They call me old-fashioned but I reckon it tastes better."
Mr Madyun's grandfather, Ernest Scott Tucker, left Bermuda to study horticulture, and later came back and introduced it to schools. His father was a farmer too. "I can recollect working in the garden for my dad when I was between 3 and 5, chopping myself in the ankle with a hoe — which was too heavy for me! My parents always had a garden. I've always had a garden."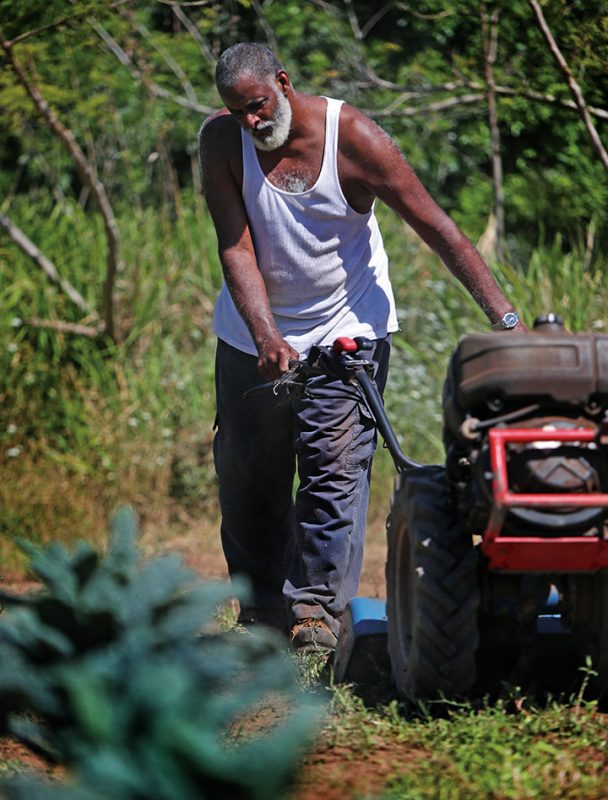 His particular passion is subtropical fruit trees; a mango tree, heaving with fruit, provides the perfect shade for our interview. He also has longans, plums, nectarines, peaches, guavas, papayas and a bay rum tree. "My father used to rub his head with bay rum when it was real hot to cool off," he laughs. "Some used to put it in their hat to keep flies away."
His enthusiasm for what he can grow is infectious. I challenge anyone to find a brand of scent that can top that of Mr Madyun's peppermint plants, curry tree leaves or lavender. His wealth of knowledge, not just about how to grow things but what to do with the produce — especially its medicinal benefits — is also exceptional.
He shows me his moringa tree saying: "It's anti-cancerous. It has more vitamin C than carrots and oranges. It's very sought after right now." 
Mr Madyun also explains that curry tree leaves can be used for arthritis and in China, they use loquat leaves to make cough medicine.
"I like being next to nature," he says. "I'm a Muslim. I've been a Muslim for almost 40 years and we have been taught that we have to return to our original nature."
Mr Madyun, who was 14 when he converted, says: "The best thing that has happened to me was to be introduced to Orthodox Islam, true Islam, because we accept all humanity as one."
When we meet, it is the eighth day of Ramadan and in spite of the intense heat, he is abstaining from food and water during daylight hours: "I always do Ramadan," he explains. "It's a period when you can regenerate and the emphasis isn't on the physical part, but to rekindle our closeness to the creator." 
His belief is that you should break the fast at the end of the day with something natural. He does it with dates, which he has grown using the stones from last year's fruit.
Mr Madyun loves to write poetry and hopes to publish a book called Encouraging Words. He also meditates. Once, while meditating, he managed to identify 13 different types of bird on the property, which is amazing considering the cacophony coming from his rooster, Shaggy, and geese, Harry, Jerry and Monique. He also has a goat called Nanny.
Of all the beautiful, living things on his land, one of the most entertaining is what is known "down de islands" as 'Shame Me Darling' or 'Shame Old Lady'. You touch it lightly and it literally shies away. 
"This is its defence. Guys from the island say that if you take this bush, mix it with another bush called medina, it has the same affects as Viagra. But I ain't done no research," he chuckles.