Photography Blaire Simmons
What's your full name? (For the record)
Brian Rocha Bulhoes
Are you based anywhere?
No, I do all my work on site with my business van.
What is your background? (education, apprentice, how long have you been working, etc.)
I am a Certified Marine Specialist, and I am currently studying to become a ASE master technician.
What sorts of things does Mobile Mechanic do?
Everything from marine repairs, automotive repairs, heavy equipment repairs to industrial and marine generators.
What is your favourite job as a mechanic?
To see a job being completed and seeing the customer happy with my work, but also since I am mobile there is nothing better then to be able to have a different job every day in many different locations.
When someone calls you, what are the next steps? What can they expect?
When someone calls me the first thing I like to get addressed is the location and what's going on, how long has there been an issue. Knowing the location lets me know length of time to reach a client and knowing ahead of time the issue, will help me to better diagnose the issue on site because I will already have an idea. Also all their contact information.
What is your mission as a mechanic?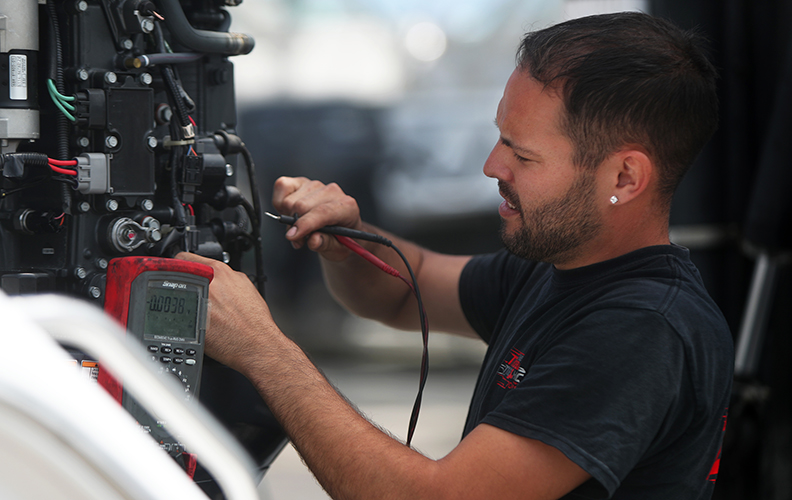 My mission as a mechanic is being able to provide a very professional, high quality service to my customers so they know that my service is worthwhile. It also helps get word of mouth out to other potential customers. I have never had a bad review and I hope this continues to be true.
What is your mission as a mobile mechanic?
My mission as the mobile mechanic is to be able to assist anyone on site, at their house, office, grocery store, out at sea, on a construction site, etc, etc.
Did you always know that you wanted to be a mechanic?
Yes, I've always known I wanted to be a mechanic, because I was always good with my hands and no matter what I was working on I could get it fixed. I've never cared for the general, routine school subjects, but hand me a mechanic textbook and I'm all over it. It is my passion.
What would you like to see for your industry in the future?
I would like to see my business expand and hope to one day have more vans on the road. This will mean eventually bringing onboard other young talented mechanics. I also am working towards having a garage of my own so I can be mobile as well as have a base for some of the bigger jobs that I am unable to do on site.
What does your schedule look like usually?
There is always something to do no matter what day of the week it is. There are some slower moments with just a few calls coming through and then other moments I am booked solid and having to organise myself by the minute to meet the needs of everyone. It is very important to be able to maintain a schedule and be very organised to get as much work done as possible.

What are the three most important questions that someone should be asking their mechanic?

What is your experience level? There are many so called mechanics out there whom I have had to follow and clean up a job they have done. It is best to have a professional handle it to save money and headaches.
Have you worked on a similar vehicle before? I believe in honesty. I was asked once to repair a piece of farm equipment. I was upfront that it was not something I had done before but found out that I actually was able to repair it very easily. Being honest with a customer goes a long way, instead of spending hours attempting to fix something and then realising after the customer has spent lots of money, that it cannot be fixed. Mechanics and customers should understand limits.
What are my options? It is very important to give the customer all of their options so that they understand costs of labour, parts, etc, and even when you believe that the repair is not worth the money. I have actually told clients that a repair on an old car is not worth it. It would be fine for me to repair it and get paid for the job but in the long run it is not in their best interest and would not last them as long as they would like. My honesty is what my clients like.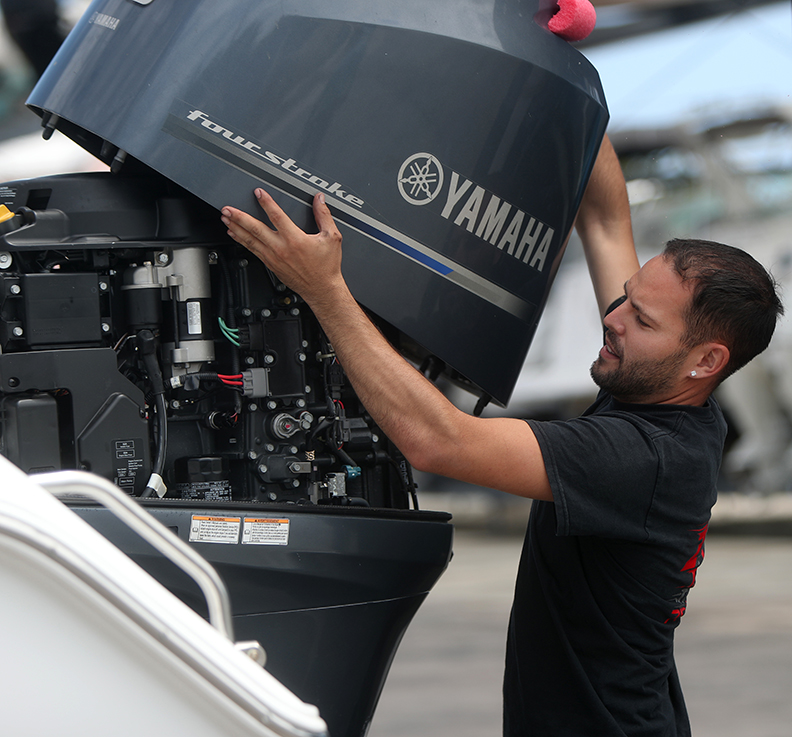 What are your goals for the business?
I would like to see my business expand and be the leading mobile business on the island.
What would you say to someone who wants to be a mechanic?
Keep your head up high, because yes this job isn't easy and it does become very stressful at times when it is a difficult job, but in the long run it is worth every second.
If you weren't a mechanic, what would you be doing?
I honestly cannot see myself being anything other than a mechanic, but I know I would be working for myself may be in another field, running my own business.
Contact details and social media info?
Facebook page or even on Google just type in "The Mobile Mechanic" all my contact information is on there. ν
Contact the Mobile Mechanic
Brian Bulhoes 
ASE Certified Technician
Certified Marine Specialist  
[email protected]