Welcome to Thailand
Photography by Akil Simmons
Executive Chef Danai Honwanishkul, Marcus' Bermuda
Thai cuisine offers different tastes from each part of the country. Northern Thai meals usually feature sticky rice, Nam Prik (spicy chili paste), fresh vegetables, and soup; while northeastern Thai meals are famous for their spicy and sour dishes and an essential condiment Pla Ra (fermented fish sauce); and traditional southern foods are well-known for their herbs and spices. The secret to Thai food, however, is a balance of five flavours: sour, sweet, salty, bitter, and spicy. Chef Danai gives us some of his favourites that combine all of these tantalising tastes!
Moo Krapow
The Perfect Pork Krapow
2 pounds ground pork
4 shallot
6 cloves garlic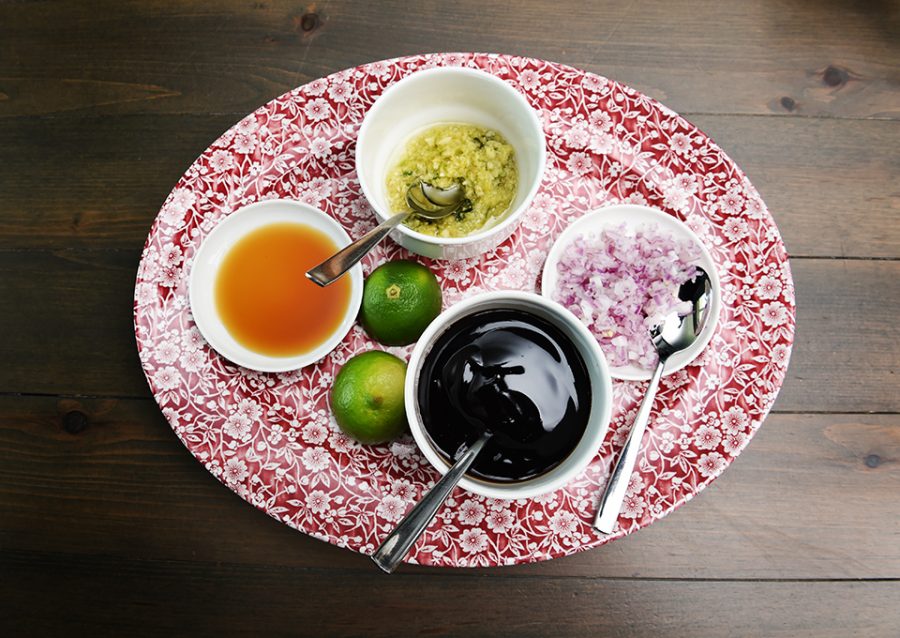 2 tablespoon ginger (chopped)
1 stem lemon grass
15 Thai basil leaves
1 Thai chili
1 teaspoons fish sauce
1 tablespoon oyster sauce
Juice from 3 limes
10 leaves kafir lime leaf
1 teaspoon salt (if needed)
Chop garlic, ginger, and shallot.
In a sauté pan, sauté pork making sure to break apart meat while cooking.
After brown strain off the fat.
In the same pan add garlic, shallot, and ginger.
Sweat, then add smashed lemongrass.
Add the pork back to the mix.
Finish with kafir lime leaf, basil, fish sauce, oyster sauce and, if needed, salt.
Add lime juice just before serving.
---
Nam Prik la
Spicy, Sweet, Sour, Savoury
1 cup shallots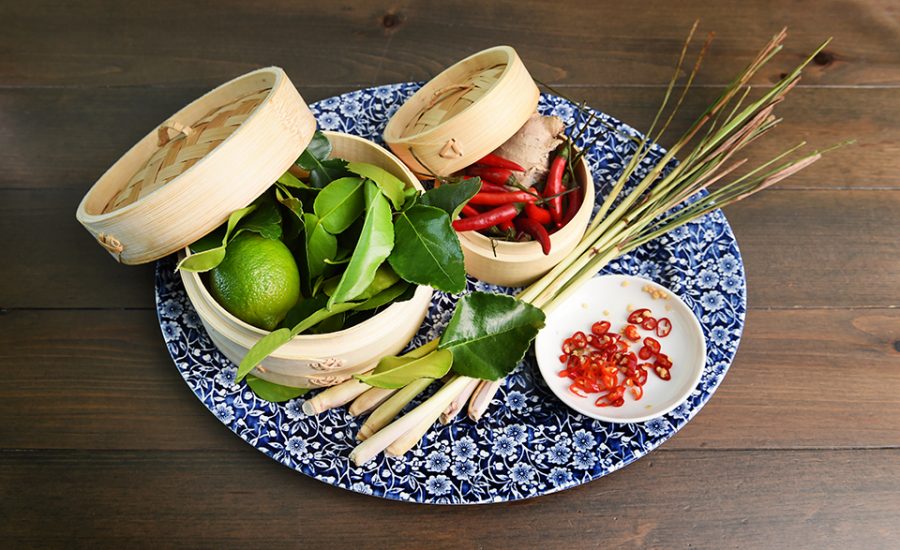 2 tablespoons garlic (chopped)
30g ginger (chopped)
1/4 cup red green and red chili
1/4 cup sugar
1 cup Squid Brand fish sauce
1/2 cup white vinegar
1/4 cup cilantro stem and root (chopped)
1/2 cup lime juice
2 cup water
Mix chopped shallots, garlic and ginger. Macerate in sugar.
Add chopped 2 pepper with seeds.
Add lime juice, fish sauce, vinegar and water.
Add cilantro.
---
Jasmine Rice
Fluffy, Fragrant, Rice
2 cups Jasmine Rice
2 1/4 cups Water
Wash rice in bowl with cold water, using your hand to rub the starch off the rice. Strain and repeat until water is clear. Place in rice strainer and let dry (roughly 30 minutes).
Add water, bring to a boil.
Add rice and cook until perfect consistency.
This article was originally featured in the 2019 Spring edition of RG Magazine.