Every year since 1988, December 1 marks World AIDS Day. It's an opportunity for people worldwide to unite in the fight against HIV, to show support for people living with HIV, and to commemorate those who have died from an AIDS-related illness.
According to worldaidsday.org, globally, there are an estimated 36.7 million people who have HIV.  Despite the virus only being identified in 1984, more than 35 million people have died of HIV or AIDS, making it one of the most destructive pandemics in history.
In Bermuda, the first reported AIDS case was in 1982 — 773 persons have been diagnosed with HIV ever since. According to the most recent report by the Ministry of Health's Epidemiology and Surveillance Unit (December 31, 2017), of those infected, 568 have had a diagnosis of AIDS and 476 have died either from or with HIV infection. As of December 31, 2017, it is estimated that there are 300 persons known to be living with HIV infection.
Figure 1 shows the cumulative HIV/AIDS cases and deaths among persons with HIV/AIDS. Cases peaked from 1984-1987 followed by a steady decline over the next 15 years. There was then an increase in cases from 2005-2008, since then it has been a general decline with less than 10 new HIV infections reported per year from 2011-2017.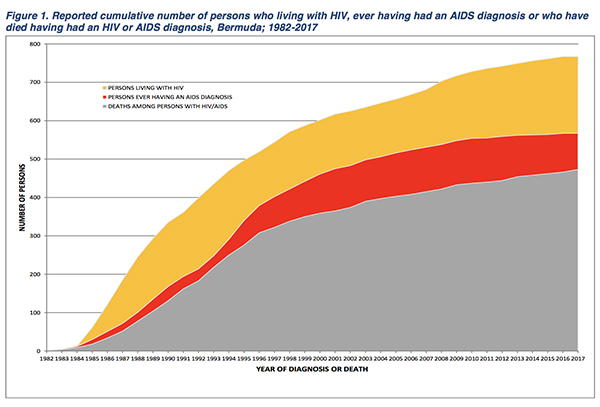 Figure 2 shows the annual incidence of HIV/AIDS and deaths among persons with HIV/AIDS. Cases Peaked in 1995 with 49 cases reported and has declined since the with 10 or fewer cases reported annually since 2004. There were no new HIV diagnoses reported in 2017. Deaths among persons continue to be low, likely due to the advancement and availability of care, treatment and support. They are also occurring among persons of older ages and the reported causes of death among those persons may not be directly related to their HIV infection.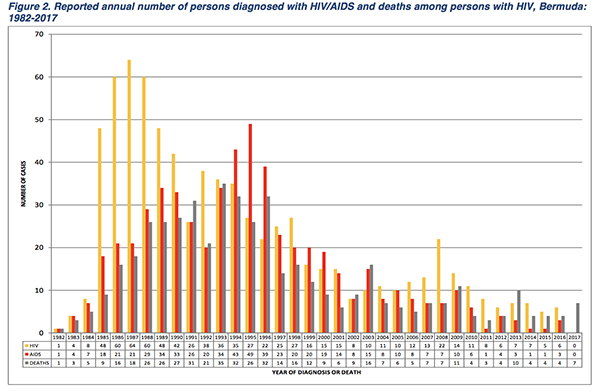 Here are the cumulative characteristics of HIV/AIDS and deaths through 2017. The majority of cases have occurred among black males aged 25-44 years. Male to male sexual contact, heterosexual contact and injection drug use each account for around 30% of all HIV infections.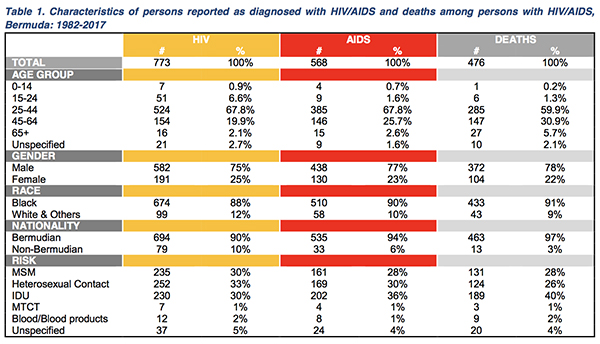 The Department of Health HIV/AIDS Services provides;
Information through health education/promotion, annual reports etc.

Confidential HIV testing with pre- and post-test counseling available

Comprehensive nursing care and treatment for HIV positive individuals

Availability of appropriate medications for HIV+ individuals — Highly 

Active

 Anti-Retroviral Therapy (HAART) and prenatal and antenatal treatment for prevention of mother to child transmission (PMTCT)

Identification of resources and supports available to HIV+ individuals with facilitation of these linkages
Epidemiological investigation and contact tracing
For more information visit the
 Department of Health
in the Continental Building, 
25 Church Street 
Hamilton or give them a call on 
278 490.