It's 2 o'clock in the afternoon on a cloudy Saturday when I visit Dembiez at their Hamilton Parish recording studio. Known to keep a fairly low profile, the musical trio consider this to be their first real media interview, where the topic of conversation is: themselves.
They've been writing, producing and recording music under the moniker Dembiez since 2012, but the young men – Jumar Hayward, Cahlii Smith and Shomari Warner – say music has been an integral part of their lives ever since they were kids.
Growing up, they always felt there was something missing in the Bermuda music scene – be it ingenuity, professionalism or perhaps just access to resources. Shomari, 24, said: "There have always been people in Bermuda who loved music and wanted to pursue it, but we felt there wasn't anyone really doing anything amazing with it and taking it to the next level quality wise."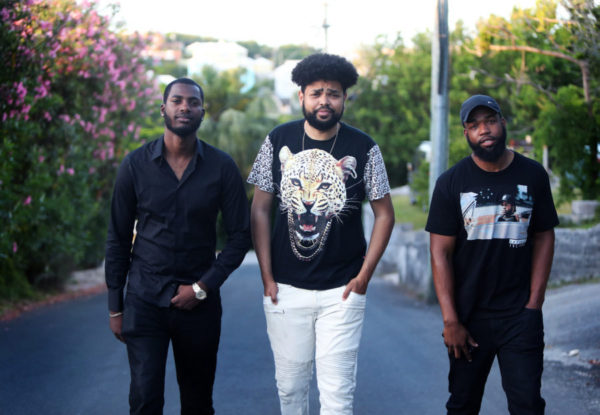 The trio decided they would be the ones to attempt the challenging feat. Over the years they've worked with local artists such as General Kaution, Cush Evans, Jesse Seymour, Brixx (Brittany Coxx), FourteenFourtyThree, Jay III, Olivia Hamilton, B.L.A.C., Krislyn and many others. Pretty much every young musician on the Island taking their craft seriously have come through their doors at one point or another, they say.
"That's when we knew we were #1, when people just started gravitating to us," Jumar, 27, said.
"We weren't really pursuing artists anymore, people were coming to us. Our ultimate goal is to be able to help musicians, singers and entertainers create sustainable careers for the rest of their lives and to be known worldwide."
The guys envision one day becoming a bridge between the music industry in Bermuda and the rest of the world, so if artists want to come to the rock to perform Dembiez will be one of their first points of contact. They imagine expanding their studio beyond Bermuda and having locations in New York and Toronto. They also picture having full bank accounts and working with international artists, in addition to their talented local roster.
However, there's still a long road ahead before those dreams are accomplished. Jumar and Shomari spend about 40 hours in the studio each week, in addition to their day jobs. Cahlii, on the other hand, knew after finishing high school at Berkeley Institute that a typical 9 to 5 job wasn't in his DNA. "Music was actually the only thing I was ever really good at, so I didn't have a choice but to pursue this path," the 25-year-old said. "Sometimes it's a stressful industry, but if you're passionate about it then that outweighs the cost."
They've found that operating out of Bermuda has its own unique challenges. Being a tiny island in the middle of the Atlantic, they say the standard here isn't always at the same caliber of what's produced internationally.  Jumar explained: "At one point, Bermuda seemed like it didn't have a standard at all and everyone was getting on the radio and once everyone can do something it lowers the overall quality that someone has to work to make themselves a success."
On one side of the coin, they say Bermudians are quick to offer praise to budding artists, even the not so great ones, when they are just starting out. On the flip side, there isn't always enough support and celebration for those great performers who have proven over time they have what it takes to make it big.
"People think that everything is okay if it comes from one of our own," Cahlii said. "That's good if they're actually amazing, but we have to be honest with our feedback if they're not because in the real-world people don't care if you're Bermudian. If you're terrible you won't stand a chance."
Dembiez also say they have noticed a shift in the global music industry, where it's not just about being a good artist, you have to be a great entertainer. Performers like Cardi B have found stardom because of their personalities, just as much as their artistry, they explained.
As Dembiez continue to climb the ladder to music success, there have been many milestones along the way. The group appeared on B.E.T.'s 106 & Park show twice, soon after their launch six years ago. They've also enjoyed being able to craft a product from scratch – draft the lyrics, create the beat, polish the studio product and top it off with a visually stunning music video, before seeing it go viral online and collect thousands of views. "Knowing we've had a hand in making something from the ground up and then seeing people gravitate towards it, that's just a really great feeling," he said.
"It's nice to see people falling in love with a brand and not with us," Cahlii added. "It's incredible putting out one of our artists online and seeing them reach close to 100,000 views and for us to be able to prove those naysayers wrong who say Bermudians can't create something of this standard. We're showing everyone just how much is possible."
Dembiez are set to release an EP, which they describe as a mix of Motown and Broadway inspired tunes, called Showmanship. They are also getting ready to launch their new website www.dembiez.com later this summer. In the meantime, visit their Facebook page: Dembiez, for more information or to check out their latest projects.
This story was originally published in the Summer 2018 edition of RG Magazine.