Name: Nicola Lucas
Age: 45
Design line: Aqua Designs
What motivated you to enter the Bermuda Fashion Festival 2018? 
I love designing and creating and have entered several fashion design competitions in the past, but being a Mum of three kids I haven't had much opportunity to challenge myself for several years. I have always felt the Bermuda Fashion Festival was a fantastic event and when I was invited to enter, I thought it would be a great challenge and also an excellent opportunity to increase the visibility of my label, Aqua Designs.
 How are you feeling in lead up to the event? 
 I'm excited, but also a little nervous about how everything will look on the runway. I love designing and creating beautiful garments and seeing them take shape, so it's exciting to see it all come together. However, there are a lot of pieces to bring together to create a collection that I am proud of and which respects the caliber of the Bermuda Fashion Festival.
 What do you expect will be the biggest challenge? 
 Recently I've been creating individual pieces. Putting together a collection that is cohesive in design and flows on the runway, means that I have to think of everything working and coordinating together; shoes, accessories, the music and lighting and the models… it sometimes feels a bit overwhelming.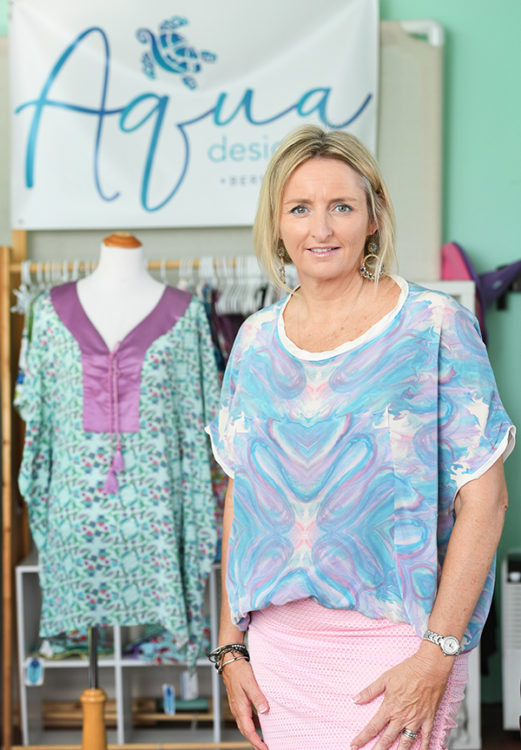 What have been the rewards of the experience so far? 
The whole experience has been rewarding, but I have particularly appreciated the advice and input from my mentor, Ken Laurence, who is a U.S. designer and past participant on Project Runway. He has given me some great ideas and input to get my collection runway ready.
 If you had to describe your collection what would you say? 
Bermuda inspired resort wear, the concept behind my resort collection is comfort and elegance, inspired by Bermuda's natural beauty.  I've designed exclusive Bermuda prints for my collection to enhance the designs in natural fabrics for breathability and comfort.  This collection is designed to be worn by all women who would like to be both stylish and comfortable while looking their best.
 In general, what inspires your personal style?
I find inspiration in Bermuda's nature, from the ocean to the lush greenery. I'm also inspired by different design elements that make a garment elegant and comfortable.
 Where do you ultimately hope to take your fashion career/ brand? Where do you see yourself in five, ten years?
I envision myself designing a range of children's and women's wear, under my label Aqua Designs, to be sold in stores both locally and internationally. I would like to be a recognised label on the East Coast of the USA and Bermuda.
This article was originally published in the Summer 2018 edition of RG Magazine.