By Tim Hodgson
The horse-and-carriage business first began to hear the rumble of the automobile coming up fast behind it in the early 1900s.
And within just a few short years horse-drawn vehicles had clip-clopped their way into virtual extinction, handily overtaken and left behind by the new gasoline-powered automotive juggernaut
But the trade managed to hold on in Bermuda far longer than it did in the rest of the world as the automobile became the dominant form of transportation. The island decided noisy, smoke-spewing "horseless carriages" were very much at odds with its carefully cultivated image as a tranquil resort destination.
So Bermuda responded to the changing times by ignoring them: a ban on the private ownership of motorised vehicles was put into place in 1908 and strictly observed here for almost 40 years,
But come the Second World War and the arrival of the American military's Jeeps and trucks on the island and Bermuda's preference for horse-drawn vehicles over the horseless variety began to crumble. Technological progress in the form of the internal combustion engine could no longer be held at bay,
By 1946 the passage of the Motor Car Act finally overturned the prohibition on automobiles and motorbikes and the days of literal horse-power in Bermuda were numbered.
Today we are living in an era when the long dominance of the internal combustion engine is drawing to a close and  the electric car is finally coming of age. After years of false starts and countless failed attempts to manufacture practical, good quality batteries, the future of transportation is upon us.
Electrically powered vehicles are becoming increasingly competitive in terms of price and performance with their petrol- and diesel-powered counterparts.
Last year Chinese-owned Swedish automobile manufacturer Volvo announced plans to make only hybrids or electric vehicles after 2019. And American automotive giant General Motors has also committed to an "all-electric future", promising to launch at least 20 new electric and fuel-cell vehicles by 2023. It's only a matter of time before other brands follow suit or face going the same way as the manufacturers of horse-drawn carriages.
There can be no turning back. And this time there is no way for Bermuda to even temporarily postpone the inevitable.
In the months and years to come Bermuda, like the rest of the world, is going to have to confront a number of difficult truths about the pending transition to electric vehicles. While the new breed of vehicles are increasingly economical to run, environmentally friendly and boast ever-improving performance levels, there are nevertheless going to be growing pains.
Among them will be a steep learning curve for mechanics who will be dealing with entirely new forms of automotive technology in the near future.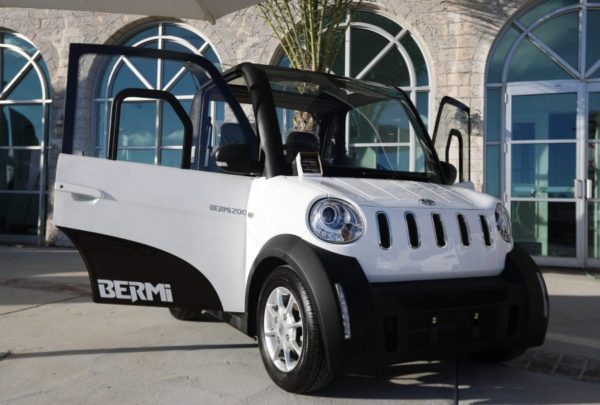 Unlike gas-powered engines, electric engines don't require oil changes. They also have far fewer moving parts and break down less frequently, eliminating a lot of the routine maintenance that garages and repair shops currently rely on for much of their income.
In fact, the latest types of electric vehicles can often be serviced using parts purchased online or even fixed remotely through online updates.
Bermuda's auto repair industry employs several hundred people. While they are increasingly skilled and technically minded, some observers say that like so many of their counterparts elsewhere they are not entirely prepared for all of the ramifications of the impending electric vehicle revolution.
For in the not too distant, it's been said, the typical auto mechanic will need to combine the skills of an IT support specialist with a "gearhead's" boundless enthusiasm for the car culture – "someone with the ability to change tires and operate diagnostic and scanning equipment to root out problems involving computer networks and data processing."
The end of gas-powered transportation will obviously not occur overnight. But the future of the internal combustion engine is limited, at best.
And those who earn a living from automotive repairs and servicing in Bermuda need to adapt quickly to the changing technology and circumstances.
For instance, aside from their computerized features electric vehicles require no traditional oil changes, fuel filters, spark plug replacements or emission checks. In many instances there is also no need for changing timing belts, differential fluid and transmission fluid.
Brake pad replacements for electric cars are less frequent because regenerative braking returns energy to the lithium-ion battery, significantly reducing the wear and tear on mechanical brakes because they're used less to slow the vehicle.
But businesses which re-train their employees and individuals who take advantage of apprenticeship courses and the Bermuda College's automotive technology certification programme should be able to make the transition to electric relatively seamlessly. And while a comprehensive understanding of the new electrical and electronics systems which operate these vehicles will be indispensable for the successful mechanic of the future, not all old-school auto repair skills will be lost: there will still be many mechanical systems on vehicles that have to be fixed. Tires can last only for so many miles, shock absorbers and struts will eventually need replacing and even the most sophisticated batteries won't last forever.
Some in Bermuda's automotive field have, of course, already started quietly upgrading their skills because the market share for all-electric vehicles has been growing steadily here for several years now.
Vendors are reporting increasing sales and higher numbers of enquiries from potential customers. And businesses that have brought the vehicles to the island are confident more people will make the switch to the electric option in the near future as they grow more familiar with the technology and choices continue to increase in terms of the models and makes available.
Certainly Bermuda residents already don't lack for options when it comes to the plug-in vehicles. An electric vehicle showcase held at the Hamilton Princess last November by the Bermuda Government's Department of Energy in collaboration with various vendors featured a wide range of vehicles and attracted considerable public interest.
Among the vehicles on display was the Bermi, which is marketed as Bermuda's "people's car". It was the most compact of the electric vehicles on show, other than the rental market Twizys.
The minicars have been brought to the island by businessman Mike Swan, of Localmotion.
Costing $14,800 for the two-seat version, and $16,900 for the four-seater, the Bermi is a runaround capable of travelling up to 80 miles between full charges. It takes six to eight hours to fully recharge on a 110v supply, or half that time using 220v.
Mr Swan hopes the minicars will also soon be given the green light for use by the rental market.
"Interest has been off the charts — from hotels and private individuals," he told The Royal Gazette during the expo when more than 30 people lined up to go on test drives.
"Bermuda, with its short commuting distances, is perfect for electric cars. We could be a leader in the world with totally electric vehicles."
Auto Solutions displayed a new all-electric commercial van, the Nissan e-NV200, which has a full-charge range of 105 miles.
The company is also offering the Nissan Leaf, an electric family car with a full charge range of up to 155 miles.
Harry Andrews, sales and operations manager, told The Royal Gazette running costs and maintenance bills for the vehicles would be half that of gasoline-powered models.
The company has sold about ten of the Nissan Leafs, and it has interest from a further 20 potential buyers.
Mr Andrews is confident electric vehicles are already going from the niche market to the mainstream faster in Bermuda faster than is the case in many other jurisdictions.
He said consumer acceptance of electric vehicles had been hastened here because so many Bermuda residents were already comfortable with the technology, and understood the arguments for them in terms of practicality, cost savings and environmental friendliness.
Auto Solutions is offering a service where it will install a home-based recharging facility for electric vehicle purchasers.
Mr Andrews and Sam Dale, a technician at Auto Solutions who has undergone electric vehicle training with Nissan in Mexico City, believe recharging ports around the island will quickly become more common place.
A number of the island's hotels already have electric vehicle recharging facilities available.
Mr Andrews said electric vehicles are "a wave" that has already arrived on Bermuda's shores, and that it was vital to continue building and buttressing the local market's understanding and confidence in the vehicles.
Also on display at the Hamilton Princess expo were electric motorbikes, including a model constructed in Bermuda by Team Oni Racing Club.
Alex Marshall, sales and marketing director at Torc, pointed out the electric bikes save about $2,000 on running and maintenance costs per year and reduce noise pollution. He said electric bikes, which have a full charge range of about 60 miles, can be recharged in six hours at a cost of less than $1.
Renault was represented at the showcase event with a regular-size electric car and a minicar Twizy, while Bermuda Motors had a BMW i3 and electric Kias on display.
Andrew Rance, service manager at Bermuda Motors, said: "It's great to see the different models and the new technologies all in one place.
"The interest is picking up and people are getting more educated [about electric vehicles]."
At the onset of the last transportation revolution in the early 1900s the operators of horse-drawn vehicles were alerted, both literally and figuratively, to the approach of the earliest automobiles by the trademark spluttering and coughing of their relatively primitive engines. Today's electric vehicles run almost silently, by way of comparison. But anyone who so much as glimpses in the rear-view mirror these days can spot quiet fleets of electric cars steadily advancing on gas and diesel-powered vehicles. And they are closing the distance rapidly.
This article was originally featured in the Spring 2018 edition of RG Motor.