Celebrities like Kim Kardashian and model, Bar Refaeli have been seen on social media baring bloody faces while getting the trendy Vampire Facial.
The procedure, also known as the Platelet Rich Plasma (PRP), allows patients to have their own blood injected into their faces for a non-invasive facelift.
On island, the vampire facial has become extremely popular, often performed by Dr Kyjuan Brown of Northshore Medical & Aesthetics Centre.
It claims to remove wrinkles, dull skin, acne scarring and more and can be performed on any age group.
Being that Kim K wasn't available to fly to Bermuda to get her monthly facial, we got our Project Manager, Carlene Spencer-Darrell to do it instead.
The appointment began with a consultation and series of 'before' photos taken with the new Quantificare 3D camera system that analyses the skin, generating an evaluation of wrinkles, oiliness, pores, evenness and red and brown spots. The software also allowed the doctor to simulate and decide treatment options.
"What I tell patients when they come in is that we're not trying to make you change you & make you look like a Beyoncé or Marilyn Monroe," Said Dr Brown.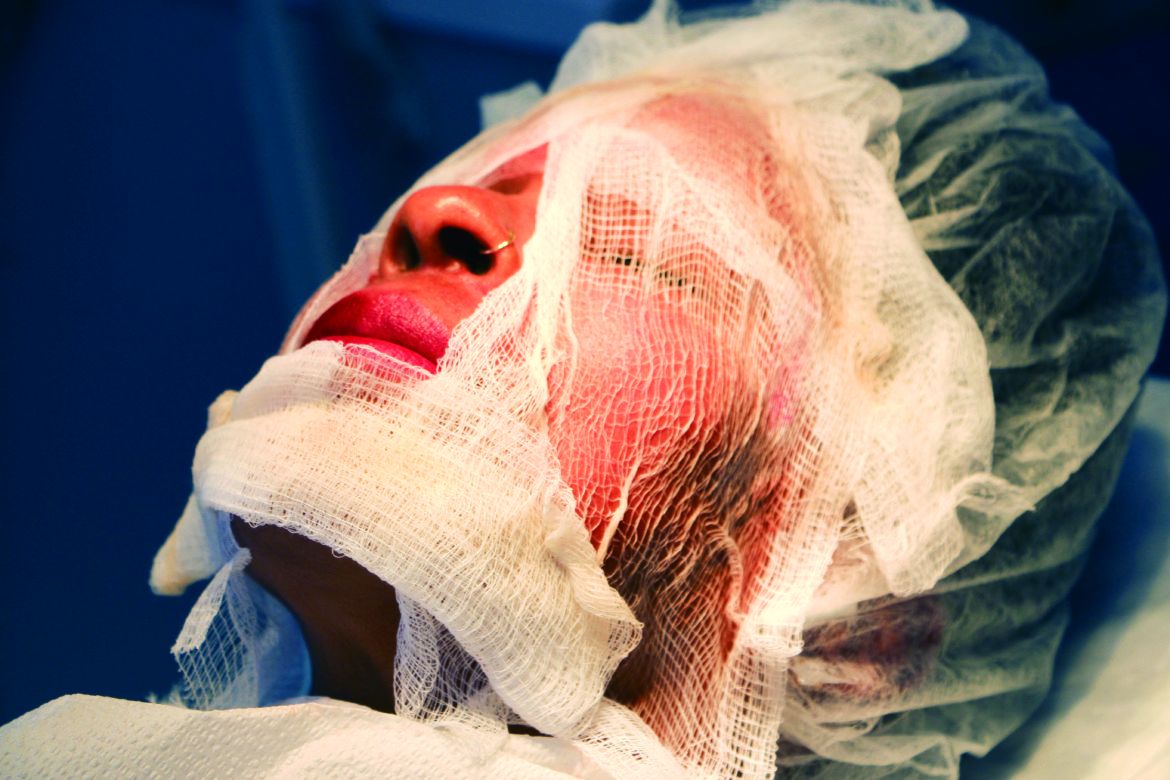 "We're just trying to make you look like the best you possible. Many patients bring in pictures from when they were 20 years younger and we help snatch them back, it's possible."
Dr Brown began by numbing Carlene's face with a topical cream for 45 minutes before a physician drew a vial of blood from her arm, spinning it in a centrifuge to separate the plasma (fluid) from the red and white blood cells.
He said: "The idea behind blood facials is that they infuse the skin with platelets, which contain growth factors, which are known to be helpful in healing wounds. Growth factors stimulate new collagen."
To help with texture and tone of the face, Dr Brown then did a combination treatment, injecting PDO threads and Juvederm dermal fillers, which lifted and softened the tissue, giving Carlene an almost immediate youthful look.
"This is artistry, you don't want to over or under-fill," said Dr Brown.
"We want to get it just right. In two weeks time, water is going to be drawn to this area, filling it out even more. Lasting up to a year and a bit."
"People love this procedure because it's instant and you leave here looking and feeling extra gorgeous".
Dr Brown, highlighted that what steers people away from the vampire facial is the cost and the perception of pain which is almost non-existent despite the amount of needles that are involved. Carlene also pointed out her needle phobia and said the feeling was minimal, other than some pressure.
For more information on the vampire facial and other aesthetic services, contact Northshore Medical on 293-5476 or visit www.nmac.bm.