The first recorded triathlon took place in San Diego, California on September 24, 1974. It was organised by the San Diego Track & Field Club as an alter­native to the rigors of training on the track. The race, which took place in San Diego's Mission Bay, consisted of a 5.3-mile run, a 5-mile bike ride and a 600-yard swim in the Bay. A total of 46 athletes finished the race.
Triathlon grew rapidly from its humble beginnings in San Diego and with­in a matter of years it became one of the fastest growing sports all over the world. The International Olym­pic Committee was intrigued by the sport's meteoric growth and began discussions to include triathlon in the Olympic Games in 1988. Juan Antonio Samaranch, the IOC president at the time, arranged a meeting in Stock­holm that year with the intention of including triathlon in the Olympics as soon as possible. At that meeting Les McDonald, of Canada, was selected as president to a working committee for triathlon, while Sture Jonasson, of Sweden, was elected as secretary.
The International Triathlon Union was founded one year later, on April 1, 1989, at the first ITU Congress in Avi­gnon, France. A total of 30 National Federations attended the initial Con­gress and preparations were made for the sport's first World Championships to be held in Avignon in August of that year. At this meeting the Olym­pic distance was set at a 1.5-km swim, 40-km bike and 10-km run. More than 800 athletes representing 40 countries competed in the first World Champi­onships. McDonald was elected as the ITU's first president in 1989.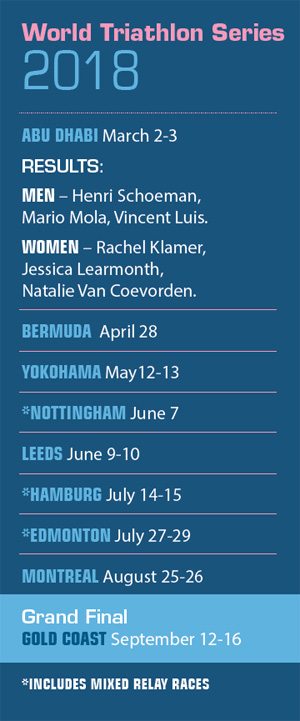 Since its inception in Avignon, the ITU maintained its headquarters in Vancouver until January 2014 when it moved to Lausanne, Switzerland, home of the IOC. From its founding the ITU has grown to include more than 167 affiliated National Federa­tions around the world. The ITU be­gan the World Cup series in 1991, staging 11 races in eight countries, and the Dextro Energy Triathlon ITU World Championships Series (now the ITU World Triathlon Series) was created as ITU's top tier race series in 2009, staging eight races in eight dif­ferent countries.
Since then some of the greatest names in the sport have graced the competition, with the likes of Javier Gomez, Gwen Jorgensen, Alastair and Jonathan Brownlee, Spencer Smith and Emma Snowsil all multiple world champions. Add to that list Flora Duffy and Mario Mola, both of whom will be racing in Bermuda this month.
Bermuda is the second stop on the World Triathlon Series tour this year, with Abu Dhabi already witnessing an exciting race where Duffy's chal­lenge was ended early by a crash, and Henri Schoeman and Rachel Klamer claimed the first wins of the season.