When Flora Duffy is racing down Front Street towards the finish line in a couple of weeks' time hundreds of her fellow Bermudians will be cheering her along, among them children with hopes of being her when they grow up.
Just as they wish one day to be in Duffy's shoes, the world's best female triathlete knows what it is to be in their shoes; because 20 years ago a young Duffy watched as the sport's best com­peted in Bermuda.
The World Cup races of the late 1990s brought the top triathletes to these shores and it was then, for the first time, that Duffy discovered that her passion could become her profes­sion.
"I was into triathlon before watch­ing the races, but for me it was the first time I got to watch professionals race, and for the first time I realised 'oh, you can actually do this as a pro­fession. I want to do this, I want to be like them when I grow up'," Duffy said.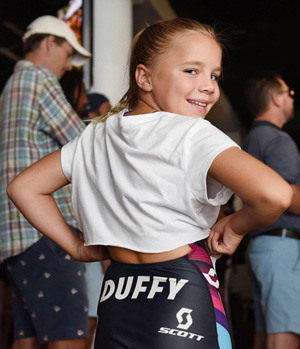 "It was pretty neat for me to watch that for the few years when I was 10, 11, 12, and just see some of the best in the world compete on Front Street, and I think that really inspired me, and planted the seed that it was maybe possible."
While Duffy is an idol to many of Ber­muda's young, she does not remember idolising any one particular traithlete at the time. Rather it was the sport it­self that captivated her.
"I do remember the female that was dominant at the time was an Austra­lian lady called Emma Carney, and that was quite cool that she was winning," Duffy said. "I just remember a host of big names and it is funny meeting them now all these years later – now that I am in the sport and have come full circle."
By the time Duffy was 10 people were already predicting that she would achieve greatness in the sport. Her determination, her refusal to quit, and a tolerance for pain that one of her first coaches called "almost unnatural" were packaged with a natural ability in the pool and on the road that led her to setting age group records that still stand today.
The road to success has not always been a smooth one for Duffy. Her much-publicised failings at the Olym­pic Games in Beijing in 2008 marked a nadir for her, and she stepped away from the sport for a time. It is a period in her life she has spoken about exten­sively in the intervening years, but if she could say one thing to her younger self it would be to remember that tri­athlon "is just a sport".
"There is way more to life than swim, bike, run; although it may seem like this is your life exploding. It's really not, it'll be OK," Duffy said. "I think as I have got older how I have viewed the sport, and its place in my life, has changed. I feel pretty grateful that I get to do this as my 'job', Of course, there are days where I wish I had a normal job but then I want to go back to training, to my normal."
For the past few years Duffy's normal has been all about winning, on road, off road, she is the dominant athlete of her chosen sport. She predicted as much herself when she was nine and had just won her first race overseas.
Still, for all the success, and all the fame, Duffy is just a girl from Bermu­da at heart; albeit one who is arguably the best athlete the island has ever produced. The hero worship, having Warwick Academy name a pool after her, the adulation, does not always sit comfortably on her shoulders.
"When Warwick Academy first ap­proached me they asked my permis­sion to name the facility after me," Duffy said. "I was so touched and hum­bled in a really weird way, so, thank you, Warwick Academy; you've made me so proud."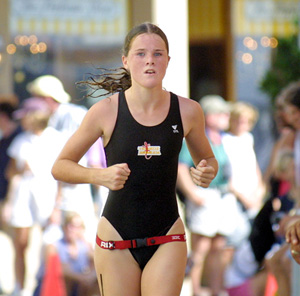 That "weird feeling" extends to the knowledge that her success is inspir­ing the next generation of Bermuda triathletes; many of whom will be wearing t-shirts bearing her name as they cheer her on in two weeks' time.
"It's really special and I hope it inspires them [the next genera­tion], and real­ly resonates with them, and sticks with them that that was me 20 years ago," Duffy said. "I was on the street watching some of the best women in the world compete and aspiring to be them, and here I am.
"It's really strange for me. Most of the time I forget that I have that im­pact on some younger kids, and then I hear one or two stories [about me inspiring them], and it's really special that my racing and success inspires the next generation. It's really cool, es­pecially here in Bermuda being that it's so small, it just feels a lot more real."