In this day and age, not only do we want our homes to be environmentally friendly and energy efficient but we also expect our offices and the buildings we work in to go green and contribute towards a healthy environment.
These offices in Bermuda and around the world are taking efficiency to a new level — inspiring and sustainable, while delivering far more than just a place to work.
HSBC Harbourview, Hamilton (Bermuda)
In 2013, the HSBC Bank Bermuda's Harbourview branch received the prestigious US Leadership in Energy and Environmental Design (LEED) Gold award by the Green Building Certification Institute (GBCI). Each floor features a central 'village' which consolidates all recycling, houses a central printing area and kitchen facilities. All workspaces are trash can-less reducing the need for more than 300 trash bags per night. The Harbourview Centre was built using sustainable construction methods and materials and harvests daylight by dimming the lights when the sun is bright, reducing energy consumption.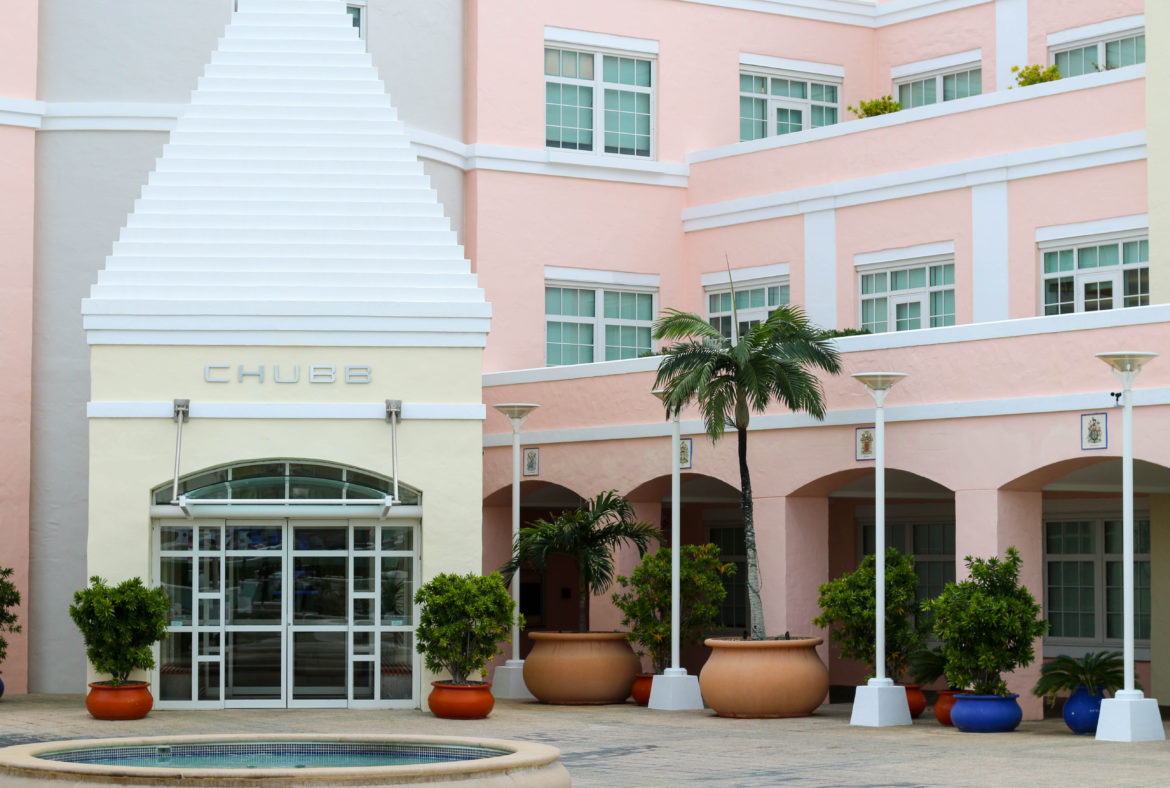 Chubb, Hamilton (Bermuda)
The Chubb building (previously ACE) on Woodbourne Avenue was the first on the island to recertify LEED Gold using the LEED Dynamic Plaque to manage its building performance in 2011. The company's Green Team have worked diligently with their employees to transform the premises enabling it to achieve and maintain the achievement. Many have opted to forgo their trash bins to reduce plastic waste liners, use reusable water bottles, support the Tin, Aluminum and Glass (TAG) recycling policy and are supplied with reusable lunch containers to use in the buildings cafeteria. Waste management is then measured by an annual waste stream audit.
141 Front Street, Hamilton (Bermuda)
Built of glass, steel, granite and stone, 141 Front Street displays the latest breakthrough concepts in green engineering technology. The automated energy management system employs earth friendly power sources to maintain a comfortable and sustainable work environment. Other features include waterless urinals in the men's bathrooms save up to one gallon per flush, landscaped gardens, double-glazed solar control glass to keep interiors cool and reduce glare and noise pollution, a chilled water system and more. The building is designed to incorporate future energy saving technologies including photovoltaic solar panels and wind turbines.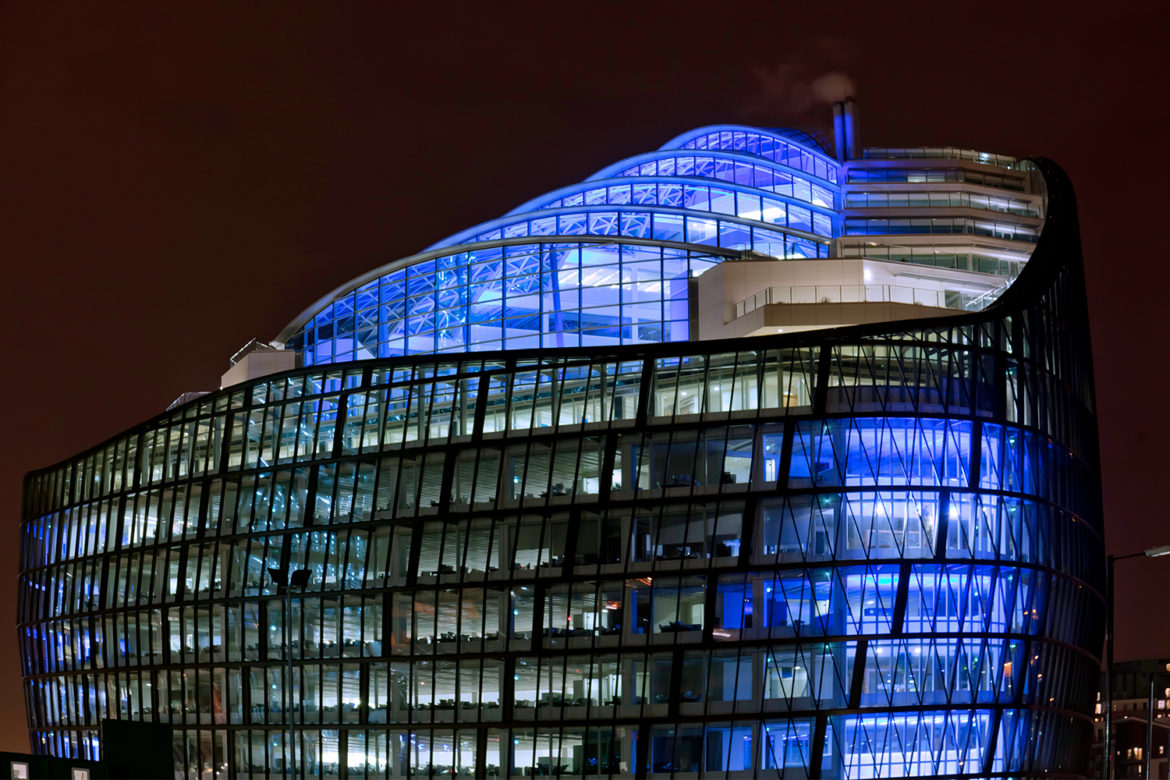 One Angel Square, Manchester (UK)
The Co-operative Group Headquarters, located in Manchester, United Kingdom achieved the highest ever, new building BREEAM score of 95.16% in 2014. The sustainability assessment method recognised the 15-storey building as being one of the most energy efficient offices in the world. It has its own source of heat and power generation plant and an intelligent heat recovery system that takes heat generated by the IT systems and reuses it to heat the building.
The building is designed to save 40-60% of the current energy cost incurred by a standard head office building and also implements technologies using low energy LED lighting and IT systems, greywater and rainwater recycling systems for toilet flushing and irrigation, as well as high efficiency passenger elevators.
One Embankment Place, London (UK)
Constructed in the early 1990s, the 40,000 square metre building situated on London's Embankment, underwent extensive refurbishment and achieved the highest BREEM Outstanding rating recorded worldwide in 2013.  Now occupied by PwC, the building uses one of the largest tri-generation systems that has reduced its carbon emissions by 51%. Fuelled by recycled biodiesel produced from waste cooking oil, the system produces heat, cooling and power to the building.  The redesign also called for more cycle storage and showers to encourage the staff to use more sustainable transport methods.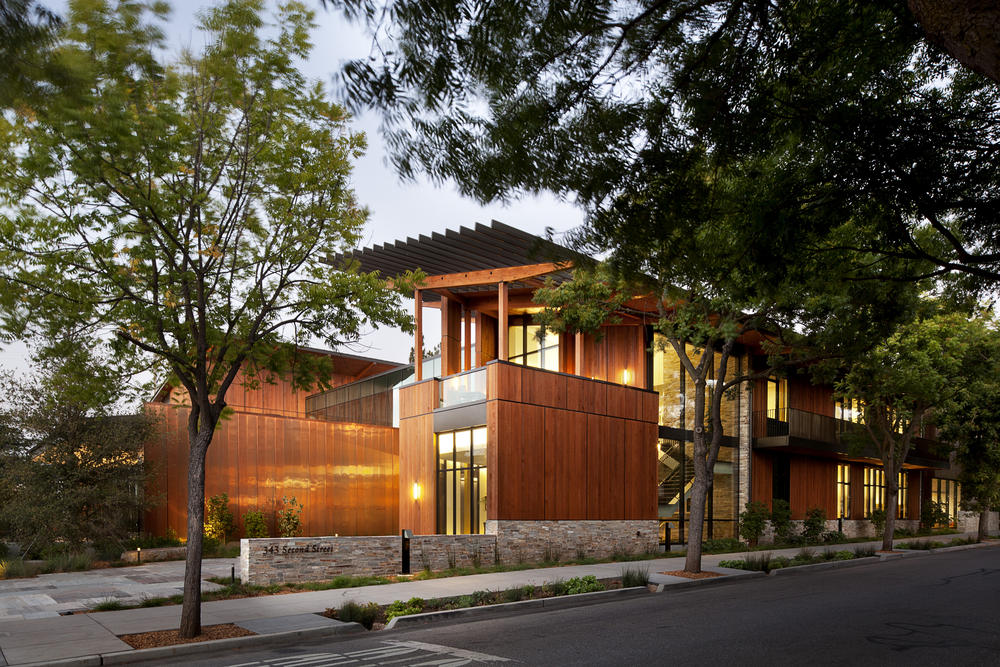 David & Lucile Packard Foundation Headquarters, California (USA)
This headquarters is the largest Net Zero Energy certified building in the world. 95% of the materials used to construct the building were sourced from pre-existing, deconstructed buildings. It provides 100% of its own energy needs through on site resources including 915 rooftop photovoltaic panels. The design of the building means that it effectively uses daylight to supplement artificial light and reduce energy consumption. It also has extensive rooftop guttering like Bermuda houses and a living green roof that collects around 20,000 gallons of rainwater that is used for irrigation and the building's bathrooms.
The Bullitt Centre, Seattle (USA)
The Bullitt centre is considered to be the greenest commercial building in the world being powered by 100% renewable energy. The design of the building takes cues from nature and it has been compared to a living organism. Its design means that it is naturally day-lit and ventilated to create a comfortable working environment — it is even expected to survive for the next 250 years. This can be achieved through technologies such as its extensive use of heat exchangers for the conditioned air, sophisticated building management systems and even composting toilets. It has also been designed to encourage inhabitants to walk up the buildings floors rather than using the lifts, which has a key card system to discourage use of the stairs.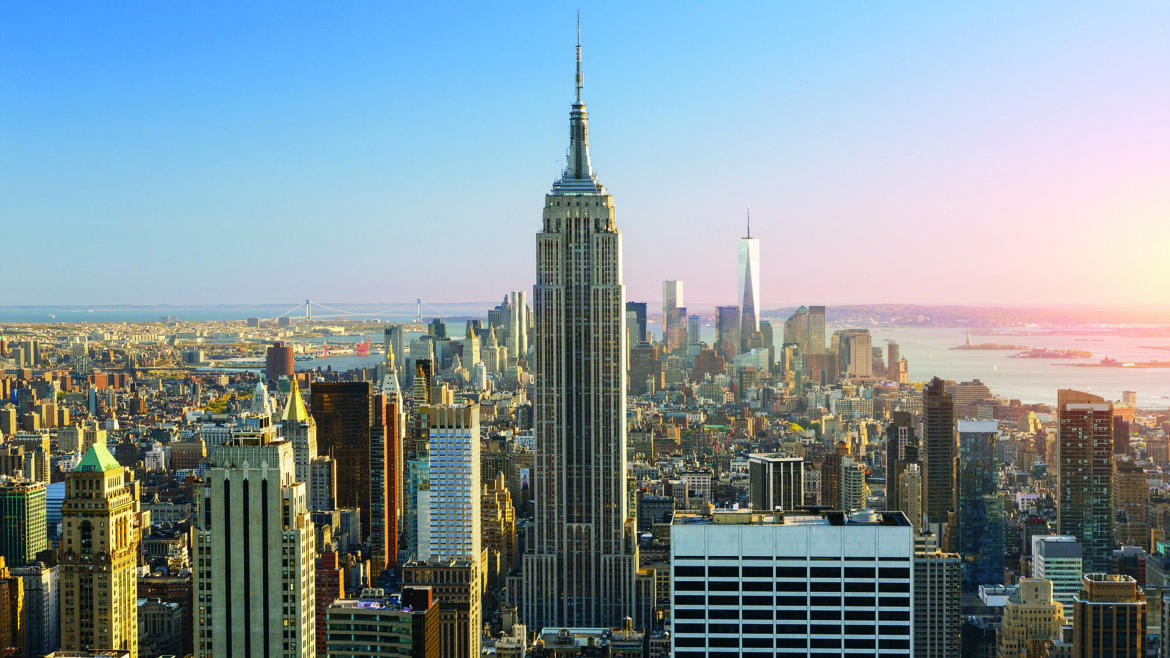 Empire State Building, New York (USA)
One of the world's most famous buildings has undergone a $550 million renovation that helped it to earn its LEED Gold Certification in 2011. The building's environmental upgrade is the largest of its kind to take place in America and has helped to cut its annual energy use by $4.4 million. In the next 15 years the changes are expected to reduce the carbon footprint by 105,000 tonnes — the equivalent of taking 20,000 cars off the road. The upgrade also saw an improvement of insulation systems, energy saving technologies and products and the refurbishment of 6514 windows.
One way the islands' offices are becoming more sustainable is through DIRTT. Commercial Office Environments (COE) is the official dealer in Bermuda for the pre-fabricated moveable walls for interior construction. The product aims to create a positive shift in the construction industry by placing as much value on the environment and people as much as functional design.
Managing director, Jeff Seiler said: "We use technology to create custom prefab interiors with minimal waste, fast lead time and a precise fit and finish. By giving customers complete design freedom, the interior space looks, feels and functions not only how it was imagined, but even better than thought possible."
DIRTT has a product range of solid modular walls, glass modular walls, stacked, low, interior curtain walls and more.
For more information about the DIRTT modular interior system visit www.dirtt.net and www.coe.bm