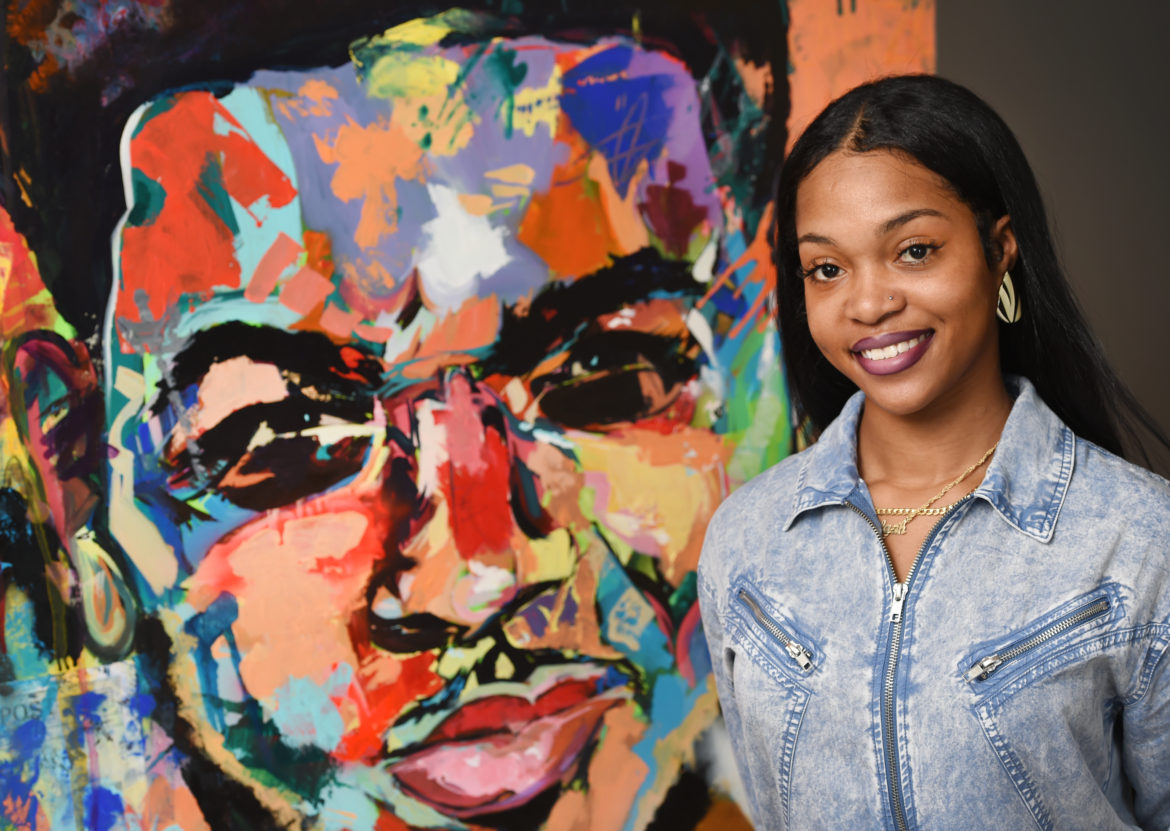 Selaah Stephenson was tired of setting new year's resolutions, only to see them fall by the wayside a few months later.  Determined to make 2017 different, the 17-year-old made a commitment to work even harder to capitalise on her passion for art. So far this year, the recent high school graduate has sold a total of seven paintings.
Her collection of 11 to 13 pieces of art for her Warwick Academy International Baccalaureate exam received incredible feedback and also earned her top marks – a six out of a possible seven.
"This has been a really productive year for me and has taught me so much," Selaah said. "It's shown me that I can use my talents to help other people. I feel like it's also helped me to unveil my purpose in life, which is to give or offer people a new perspective through my talent.
"All this actually started out as a new year's resolution – I know how people are always making them and not often sticking to them. I kind of fell victim to that in the past as well, but I knew I wanted to make 2017 different and set a big goal for myself. I'm so happy I followed through with it.
"I set my new year's resolution to push myself further with my art and saved it as a screensaver on my phone, and reminded myself of it every day to stay focused."
Selaah has been dabbling in the arts since she was a child. Then, while studying at Somersfield Academy in 2015, her interest in painting was taken to new heights. For a class assignment, she decided to create a mural of Malala Yousafzai, the Pakistani activist and Nobel Prize laureate, on the walls of her school.
"I chose Malala as the face of my mural because she's an educational activist and speaks of how education should be valued and not limited based on colour, gender, religion or economic status," Selaah said.
"I wanted to make people more aware and introduce my perspective, so my way of approaching that was to tell a story through art, and it turned out well."
Over the past year or two, Selaah's art style has become more "free and lively". She has also been exploring different ways to market her creations through social-media platforms such as Twitter and Instagram.
"For my IB programme, we had two years to create a collection of art to be presented in an exhibition," the teenager said. "I started out with a theme of portraiture because I love painting faces. It's something I have enjoyed since I was little.
"But then three-quarters of the way through my series, when I had only a few months left to go before my art exam was approaching the end, I decided my theme was too broad," she said. "I felt like it wasn't showing off my full potential. I believed I could still do better and I wanted it to be stronger and more of a reflection of myself and how I see things differently, so I decided to start over."
Racing against the clock, the teenager put down her painting brush and instead picked up construction tools, including a finishing trowel, and painting knives. "By using unconventional instruments, it allowed me to vary the texture and change the way the paint was applied to the canvas," she explained. "It gave each piece a different look and I feel that helped me to better express myself.
"It was also more fun for me and brought the works to life. They just existed differently and truly spoke to each individual I painted and their personality so much better.
"I received so much positive feedback from people about the meaning behind the work and the tools I used. This has motivated me to further develop my technique and style."
Although a natural at art, Selaah in fact has her heart set on studying biology and sciences in university, starting in January. Her hope is to one day become a paediatrician. "Once I feel established in my medical career, I will start my own practice or at least I plan to," the teenager said. "I hope to implement creative sides to the business as well and would love to one day create a series of art pieces for children at a hospital or doctor's office."
In the meantime, Selaah admits it has been rewarding to give back through art. "Some people get quite emotional when they see my work," she said. "It's something I never anticipated. Some people have cried. I have given a few of my pieces away as gifts and the feeling I get from giving, it's incredible. It's unmatched."