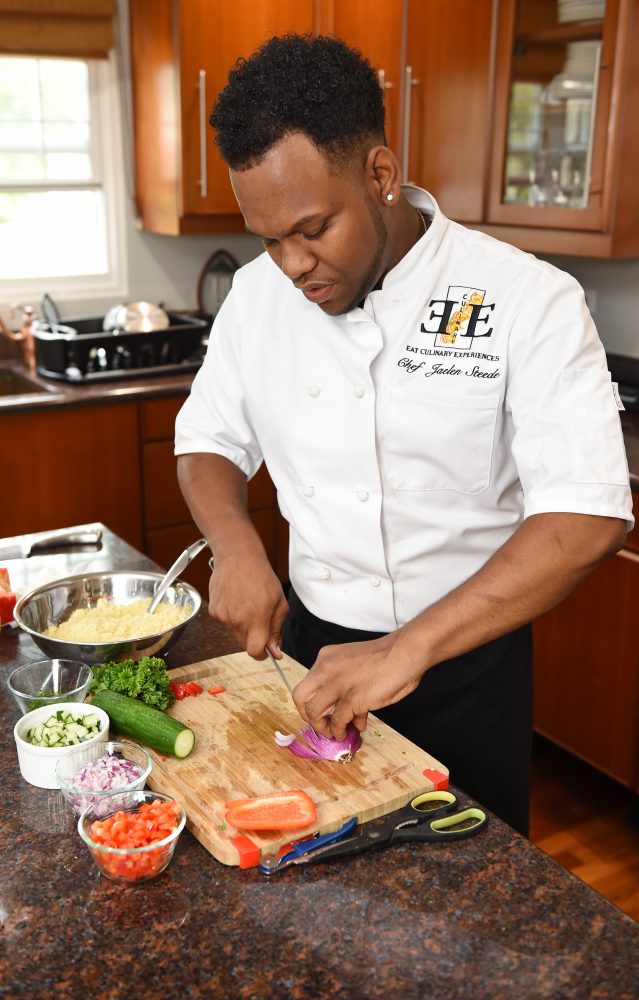 Fillet steak and lobster tail over garlic mash and asparagus
Ingredients
Fillet steak, 1 lobster tail, 1 cup beef stock, 3-4 large Idaho potatoes, 8 tbsp unsalted butter, 4-6 tbsp milk or heavy cream, 6 tbsp chopped garlic, 1 bunch asparagus, 1/2 cup red wine, 1 bunch thyme, 6 tbsp olive oil.
Directions
Turn on broiler to medium setting.
Place potatoes on stove to boil and cook thoroughly, once cooked strain from water and place back in pot.
Mash potatoes and add in the butter, garlic and milk/cream and mix.
Season with salt and pepper cover with lid and set to one side.
Put a medium saucepan on medium heat and add half of the olive oil. Once the oil starts to slightly smoke, place in asparagus and cook for 2-3 minutes (until bright green).
Remove from pan, season with salt and pepper and set to one side.
Reheat pan on medium heat. Season beef filet with salt and pepper aggressively and add the rest of the oil to the pan.
Once the oil gets to the same point as before, slightly smoking, place beef filet in pan and cook 3 minutes on each side.
After 3 minutes cooking on each side add in 3 tbsp of butter and a couple sprigs of thyme. With a large spoon lightly baste the steak in the butter mixture for a further 3 minutes and then remove steaks from pan and let rest.
Cut lobster tail into half and place an even amount of seasoning and butter on each half face up on a baking tray and place under broiler and cook for 3-5 minutes or until done.


In the pan that we cooked the beef, reheat on medium heat and add in a couple sprigs of thyme and the red wine.
Let it come to a boil and reduce until the red wine is just about gone. Add in beef stock and let come to a boil a second time.
Let mixture reduce for about 2 minutes or until the consistency is to desired thickness. Season with salt and pepper and serve.
The wine
With meat and fish why not try a couple of big reds, with Chronic Cellars Purple Paradise 2015 or Laurence Féraud 'Gigondas' 2012 perfect for a plate of surf and turf.
With a rich dark colour and hints of vanilla, cherry, chocolate and spice flavours the Purple Paradise is ideal for richly flavoured meat dishes. Similarly the Gigondas is big and rich, and while suited to strong cheeses also works well with beef stew.