When Carlos Santana Dill-Trott left his job on the front desk at the Hamilton Princess Hotel & Beach Club in 2013 he was looking to explore his passion — art.
The journey has led him to teaching both children and adults about the importance of expressing themselves, and in the process may even be the catalyst that sparks inspiration in another potential artist just as it once did for him.
"I started out doing cartoon characters when I was about five and I loved Teenage Mutant Ninja Turtles," said Carlos from his studio. "I also used to watch my dad draw these cartoon characters and he could draw as well, both of my parents could, actually, and so I guess I get it from both of them. I used to sit up and watch him draw these little cartoons and I used to say I wanted to do that as well.
"I started out doing circles — big circles for the body, little circles for the head, but I progressively got better. I was always doing it in school. I was even drawing in class when I wasn't supposed to."
Now the artist is providing children with the opportunity to express themselves through art — whether they are artistically inclined or not — he is reaching them by relating art to the things that matter to them.
"Not everyone's artistically inclined so I like to relate the things that they like to artwork," he said. "So, if someone really likes to sing, but they think they really can't draw as well as they think they should I will say, 'let's do a lyrical piece. Let's take your favourite song and take some of the song lyrics and draw little notes with it, and splash some paint in the background and then all of a sudden you have a masterpiece'.
"For some of the boys they love to play football or cricket so I try to relate that with the art. So, everything revolves around art and I really like that, I really like teaching the different styles."
He's taking his Snack and Paint programme into summer day camps, nurseries, preschools and primary school and the children get to have a snack along with juice or water, and a chance to learn to create a piece of artwork regardless of their ability.
It has been a natural segue into his Sip and Paint classes for adults, where he also sees people's inspiration sparked.
"In some of my Sip and Paint classes the adults will see the piece that I bring in and say, 'I'm not going to be able to do that' but, I tell them that there's no right or wrong to art, there's no mistakes to art. We don't make mistakes, we make happy accidents," he said. "I teach step by step and people are often amazed at their artwork. And I'm happy with that as long as you've had a good time, I'm good with that."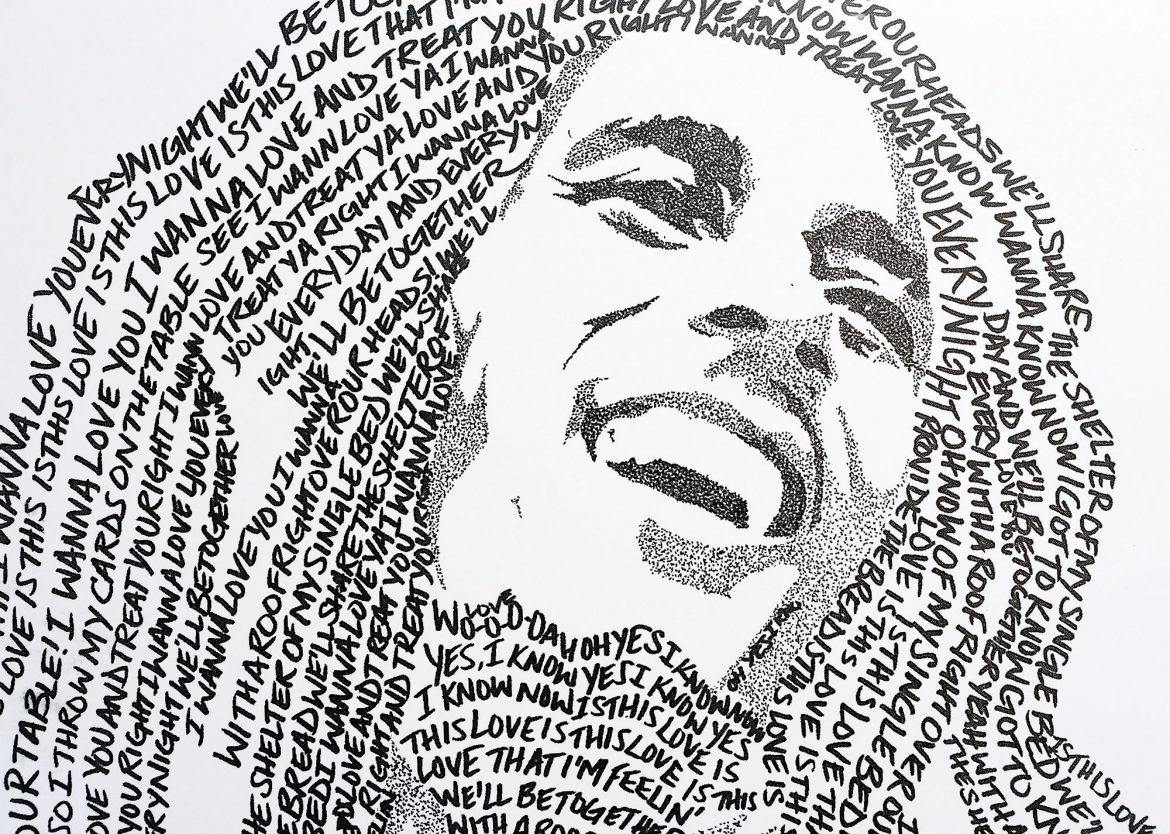 Carlos broke into the art scene with his distinctive pointillism technique, called stippling, in which thousands of dots made with pen and ink are used to create an image. His depiction of Bob Marley, whose face he created with dots, and his dreads made up of the singer's lyrics, continues to be a talking point among his fans. And though his most recent shows have seen him dabble with colour and paint he has come back full circle with his newest work, Back to the Point, which he plans to show in January to celebrate his birthday.
"The Bob Marley lyrical portrait everybody was really fascinated about that and are still really interested in that to this day. That's what really drove me back into that form and style," said Carlos. "I'm doing a whole new show for my birthday in January.
"I originally started to explore colour because I don't always like to be so repetitive," he added. "Stippling can also be very time consuming and can consist of over 4000, 5000 dots. It's dots on top of dots and can take up to three months just to finish a piece depending on size and detail. But, in terms of working with colour and painting you can never go wrong with painting. So, that's the difference between the styles for me.
"Black and white also tends to be a bit more serious and colour is a little more fun. You can splash paint on a canvas and a whole lot of colour and that's a very fun experience, versus when I do my pen and ink it's a little more serious and takes a large amount of time to finish one piece."
Some of the pieces Carlos is working on for his upcoming show are inspired by his own internal musings, as well as challenges faced in the community. One piece — a gun and a rose made up of dots which does feature a splash of colour — have a deeper meaning, and the show will not only explore his favoured style but also give people more in-depth comments on each piece.
"Mostly the style is my inspiration but a lot of it is internal, just like the guns and roses piece.
"People will look at it and think 'oh he's just painting a gun' but actually instead of bullets let's shoot out roses, let's shoot out love, let's shoot out positivity, so that's the whole meaning behind the piece. With this show I'm going to have a positive quote that people can read and get to see the meaning behind the style."
Along with working towards his next show, Carlos is also breaking into fashion design with a line of baseball caps, and his big ambition is to bring both emerging and professional artists together for an art festival.
Both his adult classes and teaching children he's found inspiration coaxing them to express themselves through something that is incredibly personal to him.
"Kids have to express themselves and should be able to express themselves in any form as long as it's a positive. You always want to be remembered for doing something positive versus doing something negative. That's something that I try to tell my camp kids and my adult classes as well. It's very important to express yourself as you don't want to keep it bottled up inside you. That's often why people do negative things, so as far as the kids I don't have them regimented that you have to do an art piece in a certain way. Express yourself however you want to and free up in the art session.
"I want to inspire people to feel the need to create and express themselves and to always have fun.
I get inspiration from the kids and I really enjoy teaching and to teach a different side of creativity to the kids."