Law student by day, fashion student by night, Tamae Clarke is making a name for herself in college campuses across the United States.
The California State University student has been taking her new Pray for the World clothing line countrywide, and while it is only in the preview stages at the moment, there is enough support to suggest she could go far.
Conscious of the world around her and unwilling to conform to a traditional sense of style, the talented young Bermudian wants to use fashion to fight against the injustice she sees in the 21st century.
Ms Clarke took some time out from her hectic summer schedule to tell us about her style, her hopes for the future, and why she gets annoyed when one of her creations starts a trend.
When did you start to become interested in fashion?
"For me it wasn't a when did I become interested in fashion, it was more of a how did I become increased in fashion.
"When I was younger I remember a boy saying to me 'finally you learned how to dress,' whatever he meant, I had no idea because I just threw on clothes.
"I didn't care if I matched; I put on clothes with completely different patterns because I basically dressed how I felt. To this day a lot of these things are still true because I dress based on how I feel, and I go through phases of where I like different themes of clothes, so my closet is very confusing for other people, but it makes perfect sense to me.
"As time progressed my love for fashion evolved out of my love for drawing. To me fashion is the evolution of my creativity."
What do you consider your style to be?
"My style is fluid. It is always changing, but no matter the theme, whether its hippy, Boho, 90s there is always an edgy unique vibe to my style.
"Those that are close to me know that only I can get away with what I wear and still look good. Though I understand what those around me are saying, I believe that an outfit goes beyond clothes.
"For example, if I am trying to get dressed and my hair looks a mess or my hair does not go with the hairstyle, I change the hairstyle to make it work.
"Dressing for me is easy; however, other people just have to negotiate to make the outfit work or wear it with confidence. Not everyone is going to like or understand how you dress, but you have to embrace you in your clothing."
Describe your creative process.
"The creative process to styling is completely different from the creative process of design; however, they both start in your mind.
"My first opportunity to actually design something was in my Family Food and Nutrition class at The Berkeley Institute, where I had to make a bag. It was the first time I had ever sewn before.
"However, in 2014 I had an opportunity present itself to me at my current school California State University Fresno, and I couldn't deny it. An on campus club called Fashion Inc allowed its members to participate in a fashion show and gave us the choice to either be a stylist or a designer.
"I wanted a challenge so I chose to design. The theme of the show was dolls, so I decided to do a princess/prince dolls theme. I purchased a sewing machine and by time I got my fabric I had a month to find my models and make my clothes. It was stressful along with school, and my other extra-curricular activities, but I was proud of what I produced for the first time."
Where have your designs been showcased?
"My designs have mostly been showcased on campus. I am a member of two organizations that provides me with opportunities to showcase my craft. I am vice-president of Fashion Inc and social coordinator of the African Student Association (ASA). For Fashion Inc I have participated in two Annual Spring Fashion Shows. The first time in 2014 I designed, and in 2017 I styled. Fashion Inc has also allowed me to style for multiple other businesses as well. In April of this year a little over a month after my show for Fashion Inc, I designed for ASA a Night in Africa where I released a preview of my brand Pray for the World that I intend to release next year.
"From that point on I've found that a lot of opportunities I had never expected to open began to open up thanks to God. Members of UCLA's Nigerian Student Association invited me to present my line at their school, which was dope. I have also been able to network with fashion bloggers and have other shows lined up for when I return to California in August."
What are the inspirations behind your designs?
"My brand Pray for the World looks at socio-economic structures and makes an argument with fashion. As a self-taught designer, I found myself questioning how my love for fashion and my distain towards injustice and inequality could co-exist.
"So, I decided to let fashion be my rhetoric, and started developing my brand Pray for the World. The objective of the brand is to look at socio-economic structures, systems of injustice and environment around the world and make an argument through fashion. For the first time during ASA's Night in Africa I launched a preview to my brand. Two arguments were being made that night.
"The first argument that was being made was the apparent socialization of the female body in relationship to nudity in both eastern and western cultures. In many eastern regions nudity is cultural while in the west it is hyper-sexualized to the point where society must teach our daughters how not to get raped rather than teach our men not to rape.
"The argument looks at the structure of patriarchy. The second argument that the collection was making was with regards to the black/African Diaspora and the enslavement of kings and queens. More importantly the bondage and enslavement that people have and still need to be freed from as a result of colonialism and slavery."
What are some of your favourite trends and influences?
"I have never been big on trends, and when I find myself engaging in trends is a result of availability or time, which is one of the main reasons I shop online because I can find what I am looking for. On some occasions I would be looking for a particular article and I wouldn't be able to find it until it is trending; and just as a result of it being trendy I would no longer want it.
"On the flip side I sometimes find myself ahead of the trend, and when it becomes a trend I am almost annoyed, but that's just me personally."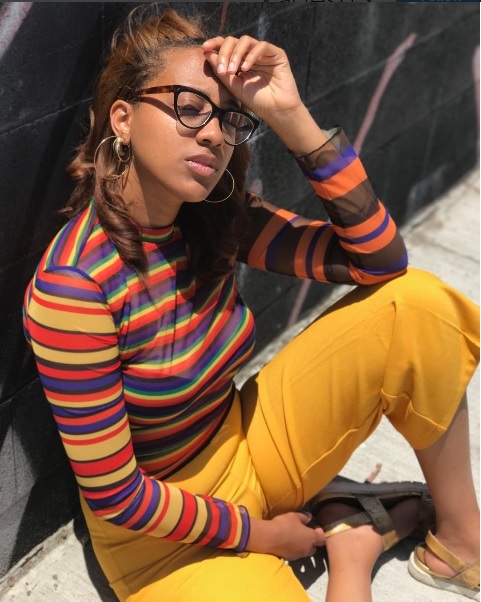 Who are your fashion influences?
"I love Rihanna, Teyana Taylor, and Solange Knowles, they are definitely fashion inspirations."
Where do see yourself in the next five to ten years as far as fashion is concerned?
"In five years from now I see my brand being established on the business side of things, but I still hope to be climbing upwards in the fashion industry."
What are three words that describe your designs?
"Three words that describe my designs are: fluid, because Pray for the World is making arguments about the world; Fashion Movement; and Fashion Rhetoric.
What are your biggest accomplishments in the fashion industry thus far?
"I would not say I have made it to the industry yet; my brand has only been previewed, not launched, even though I have been travelling with my designs.
"However, at this point, I believe in taking a chance as success and failure has been my greatest accomplishment.
"Even in the moment you [sometimes] question whether what you're doing is worth it, but it always is when you're doing something you love. I just love creating at this point and I can't wait to see it grow."
What should people expect and look out for with your clothing?
"I want to create an awareness that goes beyond the clothes with my brands. I have other brands in mind that focus on the clothes, but for this one the message is way more important. But the clothes will definitely have to be good as well.
"I really want to push the limit of creativity. As far as right now is concerned, I am just teaching myself the craft before I can do that. I enjoy using different types of fabrics. I've used waxed fabrics, linens, and Ankara.
"However, the hardest fabric I've had to use was a sheer fabric that was very delicate which had embroidery. I broke seven needles sewing that fabric and had to hand-feed the fabric. But, in my mistakes I have learned so much from working with different fabrics, and that type of frustration or challenge brings me joy. I have learnt that different fabrics require different needles, and some fabrics do not go with some outfits. I hate seams ripping after I make a mistake, but it also helps me to focus a little bit more when I work on my designs."