It is a week that has already launched the careers of Bermuda designers and models in markets far beyond our shores and it is back again this year, just a little later than normal. The Bermuda Fashion Festival will take place between October 29 and November 4, with a host of events where the next generation of talented Bermudians will take to the catwalk alongside established international designers and models.
Brittany Wolffe has gone from strength-to-strength as a designer, evidence of which has been seen at the Bermuda Fashion Festival over the past two years. The London fashion student's collections have won her an internship at Interview Magazine in New York, and a Coach scholarship. Here she tells us about "Disco Romance" the fourth collection from her LoveBomb Inc line.
What did being involved in the fashion festival mean to you?
My involvement means a lot as I find it amazing that fashion is acknowledged on our island. For a long time fashion was looked at as a hobby to many. But it is not a hobby to me, it is my livelihood.
How have you evolved as a designer since first being involved in the Bermuda Fashion Festival?
Since my first collection I have definitely evolved and it shows in my design skills, where I gather my inspiration, and how I work in general. Having a schedule during the mentorship really helped with my organisation. As a student in London I've been exposed to things I don't have access to, or never really took notice of, back home and that plays a role in how I gather inspiration.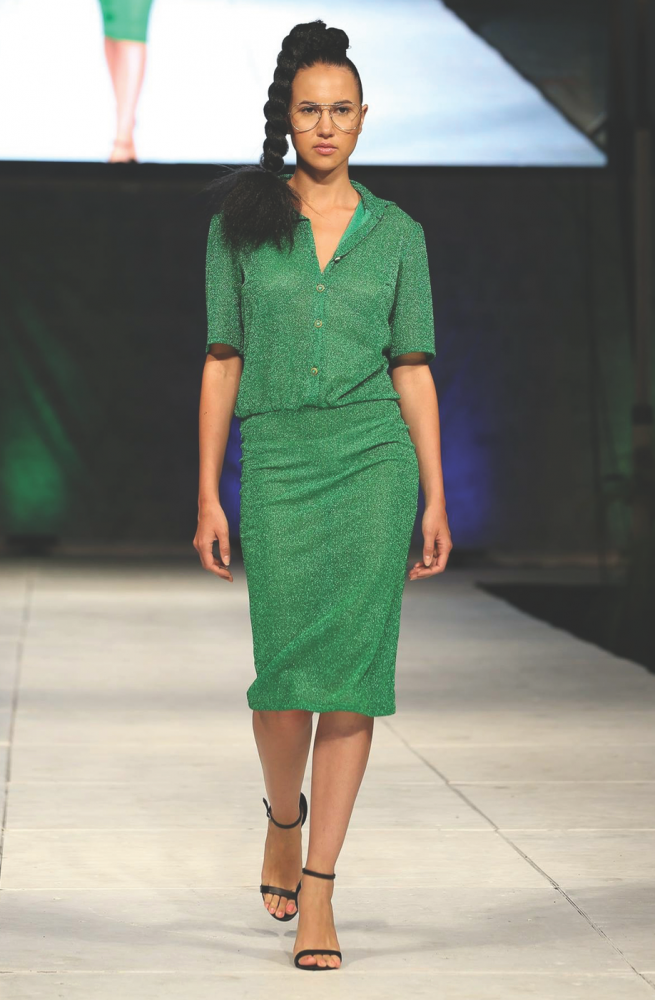 You suffered from nerves early in your career. What would you say to any young designers who are afraid to put themselves out there for the first time?
GO FOR IT! You never know until you try. Don't let anyone tell you your dreams are too small or aren't good enough. I've had my dreams of studying fashion design stomped all over because they were compared to studies that I had no interest in. It crushed me for a second or two but it didn't stop me. Having a "can't stop, won't stop" mindset gets me through.
How has the Coach scholarship impacted you?
The scholarship was truly a blessing and I appreciate all that the Bermuda Fashion Festival has done for me. The award went directly towards my studies and that was a great help.
What's the most important piece of advice you were ever given?
Every detail counts; even the smallest can make such a huge impact on the big picture.
6) What is trending for you this year?
I don't necessarily follow trends, but this year I'm really feeling the colour red. It's so bold and actually makes a statement all on its own; hence the reason it's LoveBomb Inc's colour of 2017.
Care to give us any hints as to what your next collection might look like?
Our brand is inspired by the 1970s always but "Disco Romance" our 2017 collection is heavily inspired by Studio 54. Cher, Diana Ross, Bianca Jagger. The lover of "Disco Romance" she's a partygoer, the life of the party; she stands out in a crowd.
Where will you be a year from now?
A year from now is a time I am looking forward to. I will be nearing the completion of my Graduate Collection and I look forward to building onto that to have the styles available for purchase. I really do have a lot in store, not only as a designer but also a businesswoman. Once my studies are completed it is only up for LoveBomb Inc.
Brittany plans to launch "Disco Romance" at a Pop Up shopping event on Sunday at Red Doors Hair & Makeup Artistry in Hamilton between 4pm and 7pm.