The transition from monohulls to catamarans has done more than make America's Cup racing a much more exciting spectacle. It has also greatly increased the physical and mental demands on the elite athletes who populate the sport.
Today's wing-sailed, foiling catamarans are highly manoeuvrable, sailed on shorter courses than their monohull predecessors and are capable of travelling at speeds in excess of 40 knots, meaning that the men who sail them must make rapid decisions under extreme physical stress.
America's Cup teams are training on AC45 test boats at the moment, but will be competing on 50-footers in the America's Cup proper next summer. The AC50 boats are currently being designed and built by each of the six teams competing in the America's Cup.
"Today, the America's Cup is like Formula One racing on water," says 41-year-old Kiwi Craig McFarlane, the physical performance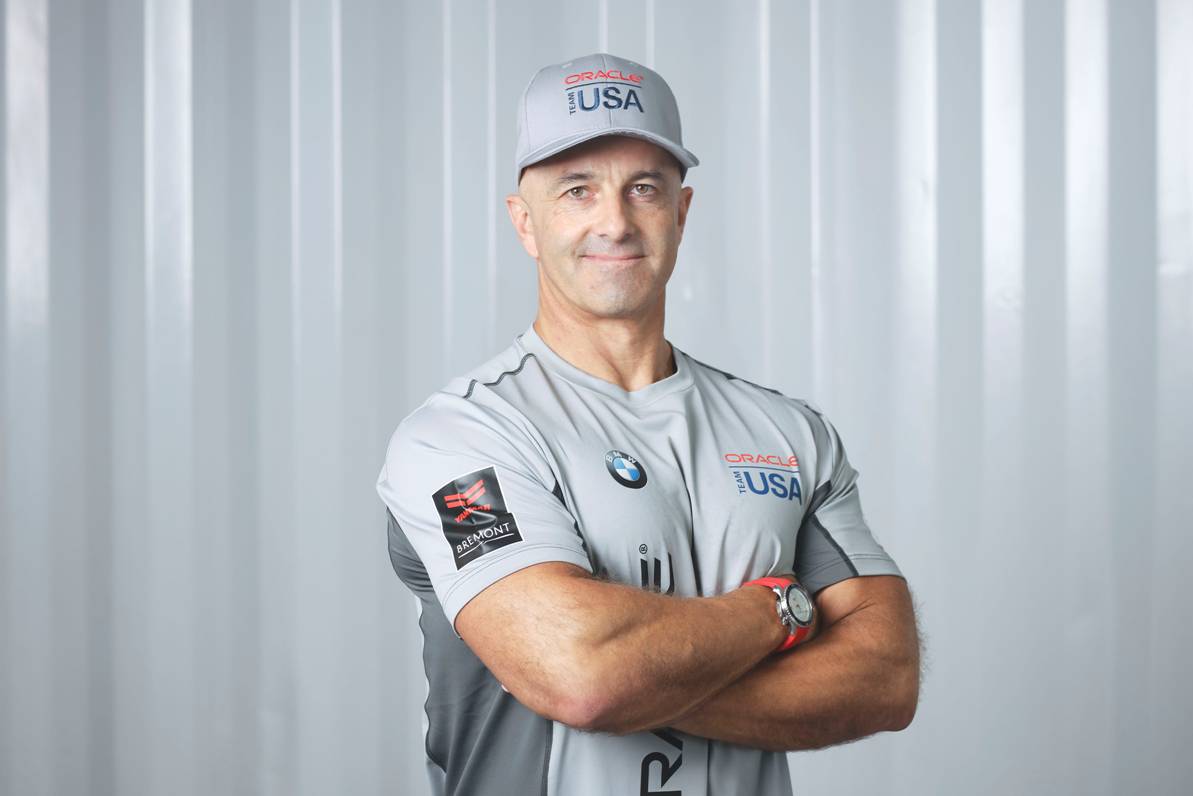 manager with Oracle Team USA. Mr McFarlane joined Oracle in 2012 after spending 14 years training professional rugby teams, first in New Zealand with Wellington Lions and Hurricanes, and then in England with Leicester Tigers and Saracens
"The technology is so advanced now on these machines," he says. "You've got to be strong to sail the boats, and you've got to be fit. Races take 25 minutes, and there are two races a day with a short turnaround. A sailor's heart rate to sail foiling catamarans is between 80 and 99 per cent of their maximum heart rate. They are as fit as an ice hockey player or a rugby player. But, unlike ice hockey, there are no benches in sailing. 'Recovery' is when they cross the tramp to the cockpit. There's not much of a rest for them.
"Our training reflects the sailors' workload on the boat," says Mr McFarlane, who played rugby and cricket in his youth, and studied exercise physiology and human nutrition at the University of Otago in Dunedin, New Zealand. "We use technology to measure the human output that the guys are exerting on the boat. From that, we tailor the training and recovery programme.
"The guys have to be strong, but it has to be functional strength. They make a lot of dynamic movements during a race, so they need a good aerobic base. They make repeated high-intensity bursts for the entire 25 minutes of a race, twice a day. They will come out of a cockpit onto the tramp – a moving platform – and then sprint back into the cockpit without falling into the water, and perform their role as part of a team.
"They undergo cognitive training while their heart rate is high because they've got to problem-solve out on the water while under duress. An America's Cup sailor must be capable of functional output while they are absolutely knackered. There is a lot of dynamic thinking and a short time during which to make decisions. As an America's Cup sailor, you also need to have something deep inside you, that extra two per cent to get the boat over the line."
Mr McFarlane says that while helmsman Jimmy Spithill has a less physical role on the boat than some of his crew, he nevertheless is absolutely committed to the team's fitness regime. "When one of your leaders enjoys the training and fitness side, it picks up the guys around you," Mr McFarlane says.
With 14 sailors on the Oracle team, and 12 required to put two testing boats on the water, the sailors also have to be durable. "With just two reserves, we can't afford for anyone to be injured," Mr McFarlane says. "That's why we do medical, strength and fitness testing on all our guys. They've got to be bloody good sailors, bloody good in their position on the boat and medically and physically in good condition."
One such sailor is Oracle Team USA tactician Andrew Campbell, 32, the US Collegiate Sailor of the Year in 2006 while at Georgetown University, the US Olympic Committee's Sportsman (Sailor) of the Year in 2007 and a former US and world youth sailing champion in the Laser class.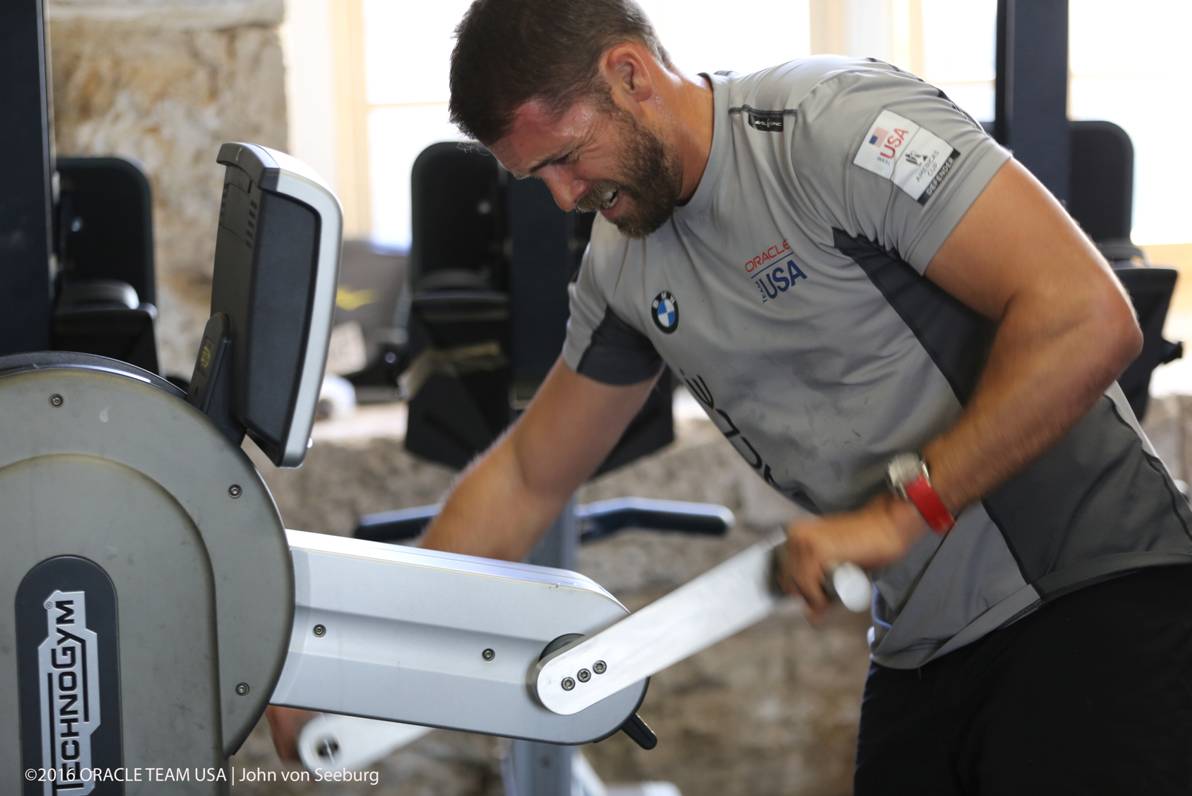 Mr McFarlane says the six-foot, 194-pound Mr Campbell has reduced his body fat percentage from 15 to ten since joining Oracle Team USA in March 2014, while his weight has remained the same, meaning that he has lost body fat while increasing his lean muscle mass, which positively affects his output on the boat.
His scores have improved roughly 20 per cent in aerobic grinding testing that is conducted seven times a year. His strength scores have gone up 10 per cent across the board.
"Hands down, I've never been fitter," Mr Campbell says after a morning workout. "The training is more high intensity rather than an endurance approach. There are a heck of a lot of people here who push you to get better. In the gym, and on the water, they push you all the way."
Mr Campbell agrees that today's America's Cup puts greater aerobic demands on the sailors. "We do a lot of work in a shorter amount of time than was the case before," he says. "The course is smaller, and the boats are a heck of a lot faster. We might do the same number of tacks, and the same number of mark roundings in the course of a day as were done before, but we do it in a condensed, 20-minute race.
"Because of that, our fitness regime is conditioned for faster-paced, higher heart rate sailing. It's like being an 800 metre or 400 metre runner as opposed to pushing a shot put. During a race, some of our guys will run the tramp 10, 15, even 20 times, in a 20-minute period while the boat is doing 35 knots."
Mr Campbell must not only meet the extreme physical demands of the sport – he is one of the four grinders on the boat – but, as tactician, he must also make sound decisions while doing so.
"I need to make good decisions very quickly at a high heart rate based on the other boats' positioning," he says. "I've got to effectively communicate those decisions to the entire team so that they know that, 25 seconds from now, we are going to tack or jibe. At the speeds we are going, America's Cup sailing demands high output from a sailor."
The Oracle athletes must be taken good care of, Mr McFarlane says.
"If they are going to win in Bermuda, and defend the America's Cup for us, we need to look after them," he says. "They are our prized assets. We must manage their training loads, manage their heart rate loads, and make sure they are getting proper sleep.
"Altogether, we get a picture of each athlete over a period of time. We can assess whether we are under-training or over-training them. We manage the athletes on a daily, weekly basis. That way, we can pull someone if we think they are fatigued. We tailor training loads to individuals – you have to be smart, you have to know the athlete.
"Our guys used to sail the boats, put the boats away, and then work on the boats. They'd be at our base until 7.30 at night. This time around, there is less of that. We are managing them as athletes and human beings a lot better."
This article first appeared in RG Spring magazine in 2016.