To some it may seem crazy to be constantly moving from pillar to post, especially with children in tow, but to the families of those involved with the America's Cup this is all part of the package.
And while this lifestyle may seem hectic, many of the families who have moved to Bermuda for next year's 35th America's Cup have used the opportunity to embrace different cultures and expand their family's sense of adventure all while still incorporating traditions and routines to help keep themselves grounded.
* * *
Emma Outteridge probably has the most experience for the life of a wanderer.
Born while her parents sailed around the Pacific islands of New Caledonia; travelling around the world, and sailing, have become the fabric of her life. At the age of five her father became the business manager for Team New Zealand and she spent much of her life moving around with the America's Cup as well as doing her own stint working for the organisation.
She's now married to Australian Nathan Outteridge, Artemis Racing's skipper and helmsman, and had no apprehension about moving to Bermuda for AC35.
"It's normal for me to feel comfortable living on small islands in the middle of nowhere," she told RG Magazine mere hours before taking off again, this time to Uganda.
She is the volunteer coordinator for a school in Uganda and earlier this year she fundraised for a new school bus. At the end of October she delivered the bus, having used her contacts within the America's Cup family and those she has met in Bermuda to raise the money needed.
"The community in Bermuda and the AC family are very interested and engaged in events going on in the world," she said. "Both are very aware that the world they live in is very small and I've found that growing up on an island the isolation means you have to be more outward looking."
She said she is constantly amazed by how many people in Bermuda know about the cup and are genuinely excited about next year's event.
"During the World Series [in October of 2015] it felt like the old days in New Zealand. Everyone in New Zealand loves sailing and here it was the same. Everyone was out there watching. Not everyone out in fancy boats but whatever they could get their hands on from kayaks to dinghies to super yachts. I keep seeing so many similarities of these two worlds that I am a part of," she said.
While the scenery may change every couple of years for her, Mrs Outteridge has found great comfort in the places she has lived.
"I celebrated my birthdays in a different house until I was 12. The norm for me is not having a norm. But because I was brought up to have an unconventional way of life it has given me a sense of freedom in moving."
The couple will spend their first Christmas in Bermuda as a married couple and will, naturally, spend the holiday on the beach.
"It's sounds like everyone goes to the beach here just like we would at home in New Zealand, so I think I will feel right at home."
* * *
While Helen "H" Draper led a more settled life growing up, living in the same Essex town until she went to university, she has openly embraced her mobile life, even with two children in tow. Married to fellow Brit, SoftBank Team Japan's wing trimmer/tactician Chris Draper, the pair have always been involved in sailing but didn't start moving around until their son, Harry, was 18 months old. Since then the family have lived in New Zealand, where their daughter Lily was born, as well as San Francisco and Sardinia, Italy.
"When moving so much with kids you have to be quite flexible and adaptable," she said.
No matter where the family is she makes sure to stick to a routine, whether it's as simple as making pancakes on Saturday mornings.
"It's really important for the children that there is some sort of structure no matter where we are," she said.
"There is a sense of community with the team as well as amongst teams," she added. "Because we don't get to see extended family as much but we have our extended family within the team and that can be a fantastic sort of support. We've also had a great opportunity to be able to mix with other families within Bermuda."
While it can certainly feel a bit unsettling to not know what the future holds, Mrs Draper said they have learned to adapt.
"You aren't exactly the master of your own destiny but with every opportunity we take the bull by the horns and are always excited about the next place we will end up."
They have found that the family-oriented community in Bermuda has allowed for them to spend time together as a family, even with Mr Draper's busy schedule.
"Moving to Bermuda we've found that because people are so used to transient people that we've been able to slot right into the community and really enjoy Bermuda and everything it has to offer."
The family welcomes the adventurous life and sees it as a great learning experience for their children.
"The enrichment of other cultures and the many experiences that our children will have that they wouldn't be getting has been very fortunate for us. We have lots of experiences and make memories that will be very special to look back on," she said.
 * * *
While Swiss nationals Nadia Di Biase and her husband, Julien, continue to observe Swiss National Day on August 1 (with plenty of melted cheese!), they also mix in celebrating July 4 and Thanksgiving, since all three of their children were born in the United States.
"Our tradition is Thanksgiving, we love everything about it. Giving thanks, gathering and sharing are the fundamental values of our family," she said.
Mr Di Biase is the events director for the America's Cup Event Authority (ACEA) but has previously worked with Oracle Team USA where his job took them from Switzerland to Valencia, Spain, San Francisco and now Bermuda. The family has found that their transition to Bermuda has been very smooth and, as their children are still quite young, there haven't been many challenges to all of the moving.
"We have been warmly welcomed everywhere…What is really hard is to be away from family and friends. We miss the grandparents as much as they miss their grandkids. It is really hard both ways," Mrs Di Biase said.
But they have made the most of the ability to discover new places and their travels have taken them to Hawaii, Alaska, Yucatan and Cuba. Even so, their hearts still remain in Switzerland.
"Once a year we head to our beloved Swiss mountains and spend a few weeks secluded in our old chalet. We are all so excited to see the snow, although trying on closed shoes and down jackets has become the kids' worst nightmares recently!"
 * * *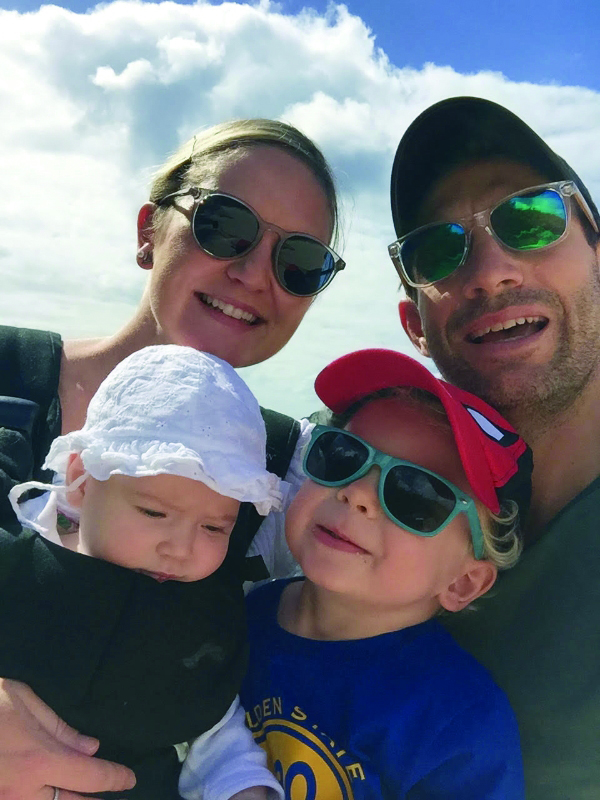 Australian Cat Hollis, whose British husband Sam is the chief operating officer for the America's Cup Event Authority, has also intertwined her own country's traditions with those that the family have picked up along their travels.
"As an Australian we celebrate Australia Day and ANZAC Day wherever we are in the world. We have been back to the UK about six times already since we have lived here – it is so convenient – however Australia is a little too far to go with two small children. I read lots of Australian books and talk about Australian animals. I attempted to make pavlova last year. It was a disaster with the humidity but I try and make other Australian style food as we think it's important that our kids know where their parents came from," she said.
"We have, though, adopted Thanksgiving from living in the US, where our son was born, so we will try and keep that going and perhaps we will take something with us from Bermuda too."
This article first appeared in RG Winter last year.