by Tim Smith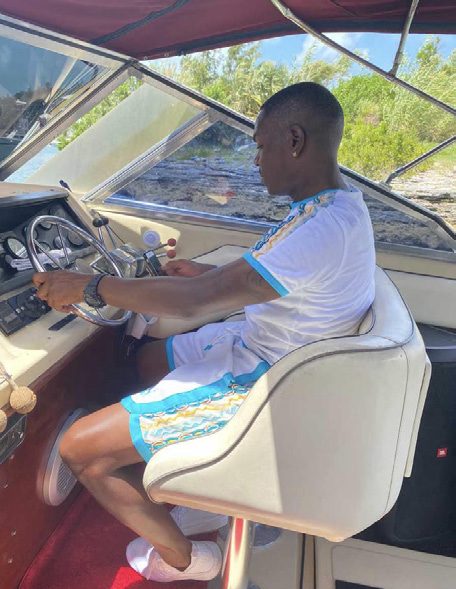 He spends his weekdays battling in Bermuda's courtrooms as one of the island's most high-profile defence lawyers. 
At the weekend, Charles Richardson recharges his batteries by doing Next to Nuffin. 
Mr Richardson says relaxing on Bermuda's beautiful waters on his 30-foot Sea Ray Weekender is the perfect way to wind down from his pressurised job. 
"Life can be very demanding, and that's why I enjoy my boat so much in the summer," he said. 
"When I'm on my boat I'm just the guy who owns Next to Nuffin, sitting there with a cold beer in my hand, dangling my feet over the edge." 
And while the strains of the modern world have taken an increasing toll on many people, Mr Richardson believes the antidote is within our immediate surroundings. 
Escaping on to the water is a great stress reliever," he said. 
"It's pretty strange but, when we are on the water, there's an artificial dislocation between you and whatever is happening on land in Bermuda. 
"You can use that in a positive or negative way. You can indulge those sides of yourself that you don't want anyone to see, or you can absorb the peace that is all around you. 
"There's nothing as soothing as floating across the water at a comfortable speed, enjoying the peace around you, hearing that liquid lapping at the side of the boat, the sound of the splash. 
"It's a combination of the sights, sounds and motions of the boat that all come together in an alchemic mix that creates such a nice environment." 
Mr Richardson bought the vessel two years ago at "a very friendly price" – hence its name. 
It has a full sound system, 32- inch TV, fully operational bathroom, microwave and fridge and can sleep four people. 
Mr Richardson, 49, said: "It's not too big where I can't run it by myself if I want, but I can also use it to entertain a number of people. 
"I have always been interested in boats but this only came at a time in my life when I was able to afford to break into the market. 
"I'm like a lot of middle aged black men. It isn't until later in our lives that we are able to finally have the money to do it. 
"We are finding that more and more of us are running boats now." 
The lawyer, who has also sealed an agreement to operate a 34-foot Phoenix this summer, expects more people to take advantage of the water as the impact of Covid-19 continues into a second year. 
"People seem to feel a sense of restriction being on land," he said. "If you have a bubble, you can literally move that bubble from wherever it is to a boat and have a great time and still maintain a sense of safety." 
Police have stressed that social distancing is required on the water, while the Water Safety Council has been campaigning for tougher rules on drink boating. 
Mr Richardson added: "I just want people to stay safe. It's very beautiful on a boat and you can be lulled into a false sense of security. 
"I thoroughly encourage people to go out and have a good time, but don't ever forget that one little momentary lapse in attention can cost you your life out there. 
"You either have to limit the amount of alcohol you consume or bring another designated driver who can take over the boat if you've had a few drinks."