by Tim Smith
Now Jane Smith knows how her own stepmother felt when she learnt to ride a motorcycle all those years ago. 
"My stepmom used to stay up when I was starting to ride my bike at 16. She said I just want to make sure you get home," Jane said. 
"I didn't understand it at the time. But oh my gosh, I get it now. You can't sleep until your children are in the house." 
It's Jane turn to be worried now because her own daughter A'Mya is learning to ride her bike, a few weeks before she turns 16. 
Much has changed on Bermuda's roads since Jane, now 51, first learnt to ride a bike back in the 1980s. 
More cars, faster bikes, unpredictable behaviour from road users and an increased sense of urgency from St George's to Dockyard mean it's never been scarier for a new rider – or their anxious parents. 
"You definitely have to have your eyes everywhere," Jane said. 
"You have to think for yourself and everyone else. It's very dangerous now because they just don't respect the rules. 
"People overtake on corners, they seem to think nothing is going to happen to them. Just the other day, I was looking at this guy on a bike – he slowed down, and up he went on his back wheel. 
"It's going to be an extreme worry, especially for new riders. They may not always know what to look out for. You have to have your eyes everywhere."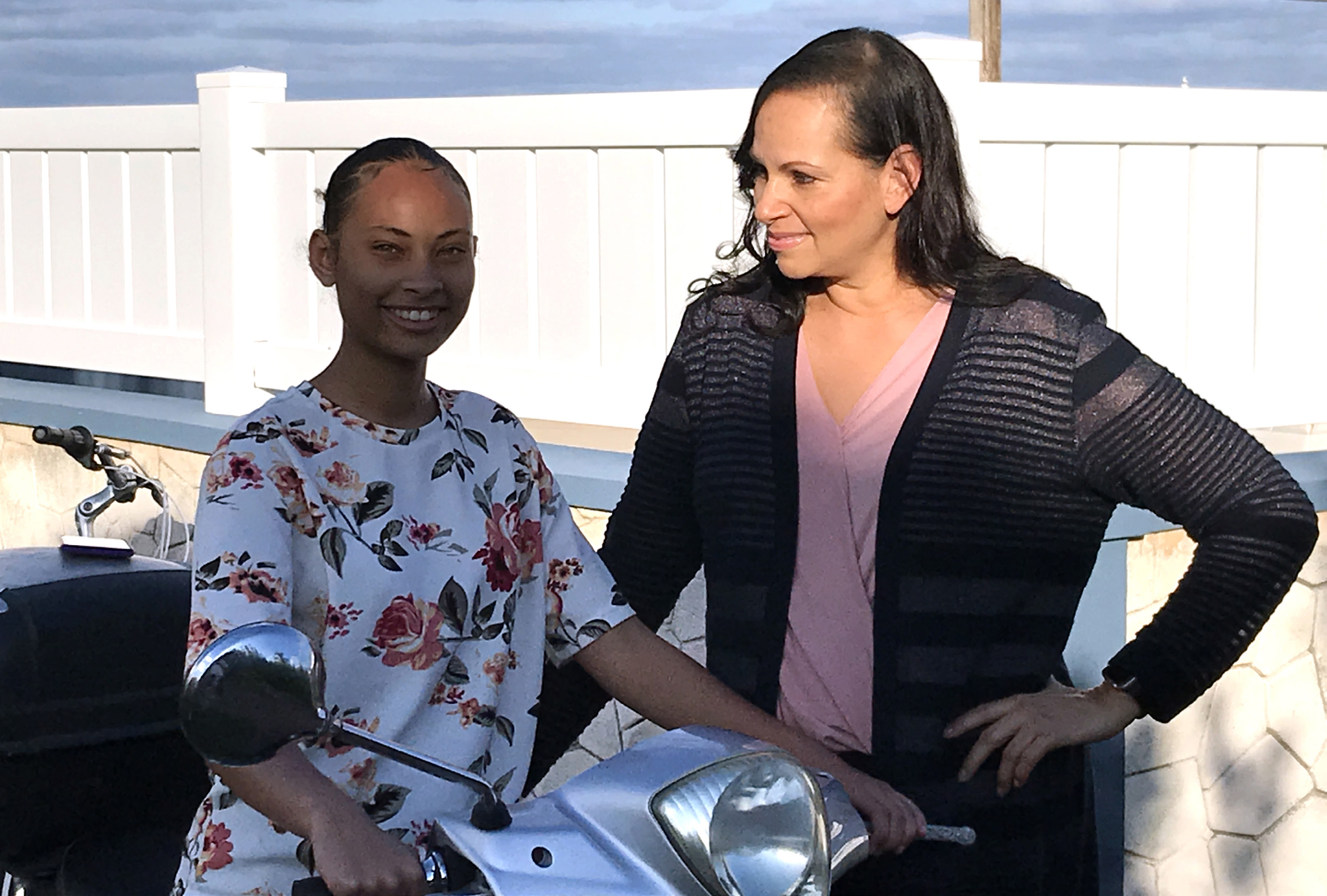 Jane realises getting that first bike is a rite of passage endured by thousands of Bermudian 16-year-olds over the years. 
"I was 16," she recalled. "I had a Yamaha V50 which my boyfriend at the time – he's now my husband – fixed up for me. 
"I loved being able to go out when I felt like it. You didn't have to ask anybody to take you. Hanging out with your friends and stuff. It was nice. 
"But my stepmom used to really worry a lot. When my eldest daughter went 16, I finally understood what my stepmom meant. 
"It's hard to believe A'Mya is going 16. You have to let them go. You can't protect them from everything forever. You have to trust them." 
Like Jane 35 years ago, A'Mya is looking forward to one thing most of all: "Independence!" 
She has had to rely on the bus or her parents giving her lifts when she wants to meet friends or go to church meetings, but will soon be making those trips on the Piaggio Liberty 50cc she received as a gift from a cousin. 
"I like hanging out," she said. "I like looking at nature. I will be able to just go anywhere now. I can go to St George's, I can go to Dockyard. It will be really nice to do that." 
Jane is comforted that A'Mya has been taking part in the Project Ride safety programme designed to give teenagers basic skills so they can get a Bermuda Youth Licence. 
A'Mya has already been practising how to stay within a tight space, turning, braking and making hand signals, which she described as "a little difficult". 
By the end of the course, A'Mya will have completed 12 hours learning about general road use, traffic laws and safe procedures on Bermuda's congested roads. 
A'Mya acknowledges it's not been easy. 
"Especially on Bermuda's roads," she said. "They're often narrow and there's lots of corners. You have to learn to slow down on the corner, especially if it's slippery when it's raining, so you don't get into an accident. 
"I still ride my pedal bike. I think that helps you with balance." 
Project Ride, sponsored by the Road Safety Council, is directed by the Transport Control Department in partnership with the Department of Education. 
Students are taught the art of strategic riding, and shown how to be caring and responsible with a defensive attitude towards the road. 
It includes advice on basic bike maintenance, common traffic offences and licensing a bike, and by on completion of the course students are given a 10 per cent discount on their bike insurance. 
It's all a far cry from when Jane learnt to ride. 
"When we were young, I knew how to ride a bike. My daddy taught me how to drive as well," she said. 
"He let me on the road when I was 14. We were taught how to ride. It was just different back then. Everybody taught each other how to do stuff. 
"Today we are trying to teach them to be streetwise and to know what's going on. Look around you. 
"I think a lot of children probably do get on the road and they don't have any real experience. 
"I rode a couple of years ago. I couldn't believe how bad it was. I was dipping and slipping. I think you have to try to find a balance, be in the centre of your lane." 
She added: "I have to pray and ask God to protect them. If they are sensible and have their wits about them, for the most part they are pretty safe." 
A'Mya can also count on expert advice from her father, Josonne Smith, a former rider of Bermuda Motorcycle Racing Club. 
Josonne said: "This came too fast! I wasn't prepared to be honest. She reminded me a couple of months ago and I was like, she's going 16! 
"For us, it's nerve-wracking but at the same time it's recognising that they are able to have some kind of independence. 
"In Bermuda, that's the first step of growing up I guess."