The security business is changing and growing so fast that even the word security itself is becoming an inadequate description of it. These days, it's all about the broader concept of "life safety".
Herman Tucker, chairman and president of Bermuda Security Group, says the industry is evolving at a rapid pace, but his company is equipped with the necessary expertise to keep up.
"Home automation means that people can monitor their home remotely and turn their lights on and off from their phone," Mr Tucker said. "There is a security and life safety component built in. None of that was there 20 years ago.
"So we have had to adapt and diversify our product offerings and that is what makes us unique in Bermuda."
BSG, which will mark its 50th anniversary next year, will move from its present base in King Street, Hamilton, into a new home on Woodbourne Avenue in June this year. Renovations have been going on since September last year to convert a former nursery into a modern and spacious new premises for the business, while maintaining the appearance from the outside, at least, of a Bermuda home.
The new headquarters at the 0.75-acre site will allow the company to showcase its cutting-edge hardware and services and provide plenty of parking space for staff and customers.
BSG, which employs around 300 people on the island, also has operations in the Cayman Islands and a start-up in the US, and has also worked on projects in Antigua and the British Virgin Islands. In total, the group employs more than 700 people.
Technological advances have increased clients' expectations of security services and BSG strives to offer the most cutting-edge offerings available.
For example, the firm offers to build out "smart home infrastructure". Such a system can allow clients to view camera footage of different areas around the home, switch on outdoor lighting before getting home and temporarily deactivate an alarm for an approved visitor. It can send a message when a door has opened, with a picture or video included. This type of high-tech surveillance is very much the face of modern life safety.
However, Mr Tucker is keen to point out that technology can only do so much. "Technology can reduce the need for man hours, but at the end of the day a person is required to make a decision based of whatever event is happening – and you can't eliminate the person at the other end of that technology who has to make that decision."
To help with that aspect, BSG has a central monitoring station in Bermuda, and also works with a third-party monitoring service based in Syracuse, New York. The system allows for immediate responses to incidents and to alert emergency services and the home or business owner, and any appropriate others. Mr Tucker said it was more cost-effective and efficient to work with the Syracuse partner than to monitor continuously from the station on the island. "It also gives us redundancy – when we lose connectivity between Bermuda and the East Coast, we can monitor from here," Mr Tucker added. "We have two physical locations and back-ups for everything."
Through an accumulation of expertise over the years and a string of acquisitions, BSG has grown its range of goods and services to cover just about the full gamut of security needs. In terms of traditional security services, they have a team of locksmiths, install fire and intruder alarms, and provide security guards.
More recent additions include smart-home monitoring systems, CCTV cameras that can be linked to apps so clients can view footage on a mobile device, and the BSG MedicAlert, which allows the elderly and vulnerable to summon help at the push of a button.
Services designed for businesses include BSGgps, a vehicle-tracking system than not only bolsters security, but also aids management of a transportation fleet. BSG can also provide an access control system, that allows a business to decide who has access to which areas of a building at what times of day, and even which floors they can access from an elevator.
Executive protection is another service that saw high demand during last year's America's Cup. And BSG's Shield division specialises in the transportation of secured valuables, such as cash.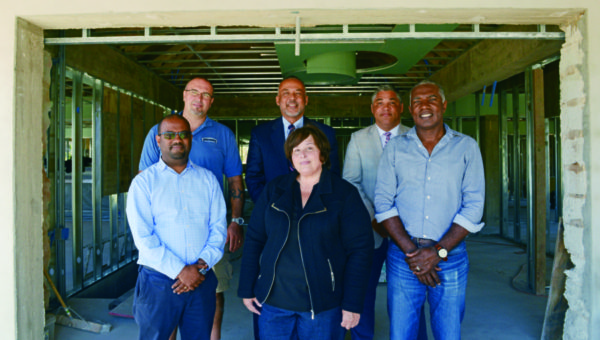 BSG also provides bag and passenger screening services at LF Wade International Airport. Last year, airport operator Bermuda Skyport extended the firm's contract until the new terminal opens in 2020. Such work requires staff to be trained to ever more exacting international standards, set by the likes of the US Transportation Security Administration.
In the Caribbean, BSG affiliate Security Centres International (SCI) based in Cayman, is an advisory service that hires out its expertise to governments, law enforcement agencies and companies. It can advise on, supply and install, anything from video surveillance equipment and licence-plate recognition cameras to bullet-proof windows and blast-proof blinds. In February 2017, SCI set up an operation in the mainland US, in Chattanooga, Tennessee.
One of its more remarkable offerings is UAS, or unmanned aerial surveillance services. Drones provide an "eye in the sky" to monitor events in real time, even at night with their thermal, infrared sensors. They are useful for port, prison and coastal surveillance, and even crime scene modelling for investigators. The company offers training for pilots of unmanned aerial vehicles from a trained helicopter pilot.
The Security Centre Ltd (Cayman), which describes itself as the territory's largest, full-service security and life-safety company, is also an affiliate of SCI and a partner in a precious-metals vaulting and dealing facility located in the Cayman Technology Centre. Strategic Wealth Preservation is an approved storage facility for precious metals held within self-directed Individual Retirement Accounts (IRAs) for American citizens and an approved distributor of the Royal Mint of England and Perth Mint of Australia, among others.
"We are involved, but we're not the only partners," Mr Tucker said. "We started it three years ago. There are large facilities like this in North America and Europe, but there was demand for a properly established offshore storage facility, built to class 3-UL standards." Class 3, certified by safety science firm Underwriters Laboratories, is the highest security level for such a vault.
Mr Tucker, a former senior civil servant, bought BSG in 2002. He spent five years as the island's Director of Civil Aviation before becoming Permanent Secretary for the Ministry of Transport in 1999, a position he relinquished when he acquired BSG. He has a bachelor of science degree in air commerce and flight technology as well as an MBA. He wants BSG to be about more than making money.
On its website, BSG states that "we have learned that investments in the social fabric of our community can yield significant positive returns for Bermuda". The firm has a long track record of community support.
BSG has backed the ABC Football Foundation in its work at Victor Scott School. Mr Tucker was once head boy of the school in the days it was known as Central School. A component of the programme is ex-professional footballer David Bascome's Power of One programme. Mr Tucker said it was about using football as a tool to develop children's self-esteem.
BSG was one of the first sponsors of the Junior Cricket League and provides support to Somerset Bridge Cricket Club, as well as sponsorship support to girls' cricket and the Bermuda Cricket Board.
The Bermuda Pilot Gig Club and Sandys Secondary School's aqua-farming initiative, the Tilapia Project, have also been BSG beneficiaries.
And the firm has been a major backer of Bermuda Schools WaterWise. Olympic sailing coach Gus Miller created the school-based, cross-curricular programme and worked to make it a reality in Bermuda. "It introduces the children to sailing and helps them to go out and apply the things they learn in the classroom, and to build self-esteem," Mr Tucker said.
BSG is also a sponsor of the Peace Builders initiative spearheaded by the Ministry of National Security. The project is aimed at combating gang violence and antisocial behaviour by providing training for concerned citizens to reduce tensions in hotspot neighbourhoods and provide a reassuring presence in times of crisis.
"As a company, we realise we have responsibilities to the community," Mr Tucker said.
This article was featured in the May 2018, RG Business Magazine.